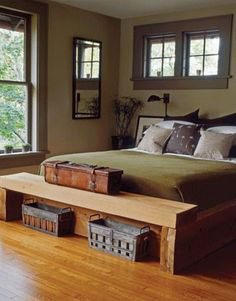 Unlike what most people think, introducing a Zen sensibility to your space is quite easy. Zen interiors mean living a simple lifestyle and having a design aesthetics that lend a calming effect to your home. It does not require extensive remodeling of your home; a few quick changes can create a huge impact.
Here are four quick and easy ways to Zen your space this Spring:
Live a Clutter Free Life
–
The first and probably the most important rule of Zen decorating is getting rid of clutter. The Japanese art of home decoration believes that clutter creates chaos and will not let your mind be at ease. Clear everything that disturbs your line of sight. Find décor pieces on your mantel and pictures on the walls a new home. Open spaces enhance the free flow of Chi-energy and it will instantly have a positive effect. You will quickly realize the importance of a clutter free home.
Spare the Bright Colors
–
Zen decorating emphasizes on the use of earthy tones. Your Zen home should be like a retreat where you can relax and feel at ease. Bright colors disturb the balance. Look for invigorating and fresh earthy tones like greens, browns, and blues. These are subtle and soft thus making your home feel close to nature. Painting is the easiest and a cheapest solution to bringing in a Zen effect.
Use Natural Materials for Décor
–
Zen decorating does not mean having a sparsely decorated, boring home. In fact, decorating with details is an interesting aspect of Zen principles. Use the five elements of nature – earth, water, fire, metal, and wood in your décor. Bring in potted house plants that will add vibrancy and cheerfulness to your space. Consider a mix of metal and wood for furniture which is modern, yet clean and simple. Decorate your bare walls with serene paintings and pictures. Limit your décor to one color per room. Use objects found in nature like rocks, shells, and twigs to creatively decorate your space. You can fill a glass bowl with shells for display on the mantel.
Organization and Storage
–
Organization is another important aspect of Zen design. An organized home will help you keep calm and peace. Take time to organize your closets, the kids' room, drawers, refrigerator, and the pantry. These are some places where clutter tends to build up quicker than you think. Make use of storage bins and boxes, label them neatly, and create a place in the house for them. When everything is neatly stacked and labeled, it will free your mind from small issues like finding birthday candles at the nick of time and will give you the opportunity to be at ease.