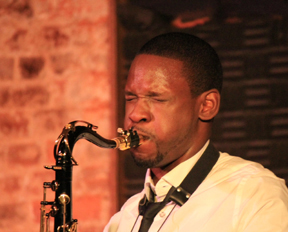 Snúhgie might just be one of Washington, DC's best kept secrets. The DC native is taking control of his music business as he remains committed to serving humanity. Recently, we sat down for a chat and I learned that this family man has a lot more on his mind than his next gig and the release of his new album, "High Definition Love."


The eldest of four children and raised in a single parent home, not surprisingly, Snúghie endured a challenging childhood. Introduced to music in the church, Snúhgie had this to say about his musical heritage, "My immediate family isn't musical, but my uncle was the lead singer in every choir he's ever been a part of and I recently learned that my grandfather sang background for Sam Cooke."


A 1998 graduate of the Duke Ellington School of the Arts, Snúghie confides that in school he learned the craft of performance. "Its creed of excellence and the exposure to greatness definitely shaped me as a person. The relationships made were deep and they're still current," he added about his Ellington experience. Snúghie's musical education also took place outside of Ellington as he performed in local go go bands.


The music director and consummate musician is proficient on the saxophone, flute, clarinet, piano, organ, guitar, bass, drums, and percussion. He created Rhythmic Sounds, a production company, in 2001. "The songwriting service and the music director service are pretty even keel," he said. Initially providing live music for corporate events, the company has evolved into a production house.



"Teaching is something I have a passion to do. I like the service of it. That's what is intoxicating to me. I feel like a part of me was made to give."
As impressed as I was with Snúhgie's musicality and gorgeous sound, I was equally struck by his love of family and obvious faith. "I can't successfully do music full-time without the support of my family. My wife lets me rehearse to my heart's desire in our home and pretty much supports every endeavor," he continued with a smile.
Snúhgie shared that every year he does mission work in Belize and that if he was not an artist, he would teach. "I like people. Teaching is something I have a passion to do. I like the service of it. That's what is intoxicating to me. I feel like a part of me was made to give," Snúhgie confided. He continued, "my faith has helped me realize my musical purpose. My goal is to make timeless music and be a positive influence."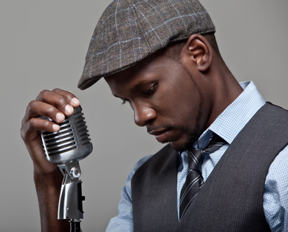 Snúhgie names four legends as musical influences: "Stevie Wonder for his musicianship and being unafraid to speak about human and civil rights, Michael Jackson for his humanitarian movement, Prince for his rebellion and not conforming to a broken industry, and Earth Wind & Fire for always presenting us with quality and positivity."


Like the legends before him, this indie artist creates soul music. His debut album, "High Definition Love," is a work in progress. Regarding the title, he explained, "I hear a lot of people say that relationships are 50/50. I believe that individually we should always give 100 percent and commit to strengthening our relationships if they are to succeed. I also know that love changes people. "High Definition Love" endures beyond the challenges." He continued, "For better or for worse, I'm also sort of a perfectionist and want things to be right. I feel that if this is the only album I'm ever able to release, it's gonna be great." With an eye on traveling to the United Kingdom, Snúhgie plans to tour to support "High Definition Love."


Snúhgie's lyrics speak the language of love, and he is doing his part to keep romance flowing in the DMV (Metro DC – DC, Maryland, and Virginia). Check out Snúhgie at his "Date Night with Snúhgie" performance at the Carlyle Club in Alexandria, Virginia or with his band, Got Sol, Tuesday nights at Indulj in Washington, DC.


Snúhgie On