Feature


The Gambia's Rodent Slayer
By Wayne A. Young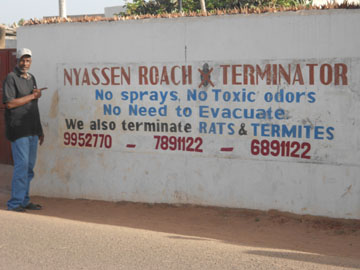 So why did Tyrone Glen Phillips move from his south side Chicago, Illinois neighborhood of Englewood to Kerr Serign, a town south of Banjul, the capital of the West African nation of the Gambia? "It's more peaceful here," he says from his office 30 minutes from Banjul.




Phillips' adventures to the Gambia began as a tour guide in 1992. Besides showcasing the country's culture, he says, "I just liked the people and the environment." In 1994, he married Mariam, a local woman. They traveled between the United States and the Gambia and had children. By 2005, they decided to raise their children in the Gambia. "I wanted my kids to have things that I didn't have growing up including the ability to speak more than one language fluently, see more of the world and have more discipline and knowledge."




While the Gambia has had a great impact on his life, Phillips has brought some Americana to Africa's smiling coast. Phillips, whose legal name is now Makumba Nyass, started a jazz educational program on City Limits Radio (93.6 FM) – Serrekunda, The Gambia (Saturdays from 10p to 12a in Gambia (Sundays, 2a – 4a EST)) "It's a jazz education program where we feature jazz artists--telling their life stories and featuring their music," he says with a prideful smile.




Nyass knows much about jazz. Before becoming a tour guide, he spent more than 30 years organizing festivals that featured American southern culture, jazz, and blues. After attending college in Huntsville, Alabama, he started the Tennessee Valley Jazz Society, which is celebrating its 26th year.



However, Nyass spends much of his time servicing more than 1,000 clients by getting rid of the rodents and other pests that invade their homes and businesses. He learned of the formula his company, Nyassen Roach Terminator, uses from his mother in Englewood. "I started using the formula in the Gambia after I took a lady to a store to get some roach spray. They were out of it, so I used my mother's recipe and it worked."

From a humble start, Nyass' future plans also crosses national boundaries. He is currently looking for a production and distribution agreement for his roach and termite product. "I am sure we can help fulfilll a need in other countries as well," he says. While Nyass is willing to share thoughts on the Gambia and jazz, he keeps one fact a guarded secret: the environmentally friendly extermination formula he learned from his Mississippi-raised mother in Chicago, IL USA.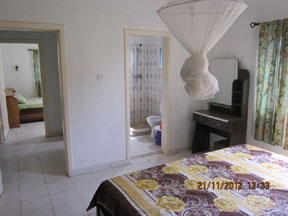 Note: Since our initial printing, Nyass has begun renting two, two-bedroom, fully furnished apartments at his compound. They come with a kitchen and dishes and satellite TV.