Current Massachusetts Governor Deval Patrick: Romney didn't keep his promises in Massachusetts

The President "Sings" "Call me Maybe"


Obama Boy - I Have a Crush on Obama


(Remember Obama Girl 2008?)



Pick Romney's VP
The Washington Post has a nice quick game where you can put yourself in Mitt Romney's shoes and pick his Vice Presidential choice by answering a few questions like "establishment or tea party?" and so on.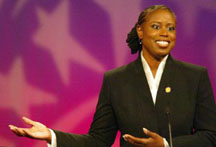 Cynthia McKinney Returns
The Green Party of Georgia has nominated former Georgia congresswoman Cynthia McKinney for her old 4th Congressional district seat.


Florida Again?
The U.S. Justice Department has sent a letter to the Florida Secretary of State stating it will take legal action against the state, citing violations of voting rights laws. The letter comes after Florida began moving to eliminate non-eligible voters from its lists. Florida's Republican governor, Rick Scott, pressed the state to identify non-U.S. citizens who had registered to vote illegally.


The Justice Department says the plan unfairly targets minorities and paint it as an attempt to dissuade typically Democratic voters from going to the polls. One method the state is using is to remove anyone who was not a citizen at the time he or she applied for a drivers license--even though they may have becomes citizens since then.


Isaac and the Bah Family Tree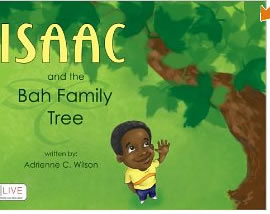 This delightful short story of Isaac Bah and his discovery that he has ancestors caught my attention because Bah is not a common surname in the United States, but is in the Gambia and other countries with Fula populations.


Author Adrienne Wilson says she chose the last name Bah while she was working at a cash checking company and "one of the customers who frequented the service had the last name of Bah and I learned that it is a very common name in West Africa.," she said is a telephone interview. " The name has nice ring to it," Wilson continued.


Khalil's Way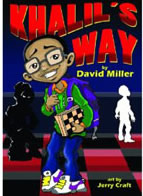 An illustrated children's novel by author David Miller highlights the journey of Khalil Joseph, an 11-year- old boy growing up in a tough New Orleans community after Hurricane Katrina. Khalil's journey shows how a young boy who is gifted in math and chess struggles with ADHD, asthma, numerous food allergies and growing up with a single mother . He deals with being bullied every day in school. Khalil's Way is serious, yet sometimes funny and encourages children to make healthy decisions.


The Color of War
How One Battle Broke Japan and Another
Changed America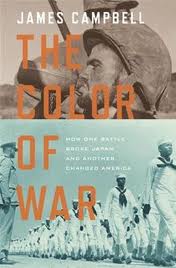 The Color of War is the story of two battles: the one overseas and the one on America's home turf. By weaving together these two narratives for the first time, James Campbell paints a more accurate picture of the cataclysmic events that occurred in July 1944--the month that won the war and changed America.


Tribute to Mahalia Jackson
Featuring Louvenia Nesmith
Westminster Presbyterian Church
400 I Street, SW
Washington, DC


Sun, Jun 17, 3:30p, $25


Undergarments and Tool Drive


Global Mission Society
New Hope Baptist Church
3400 Pinevale Ave


Forestville, MD


Tina Thompson 240-481-8196


Sat, Jun 23 10a-2p



Smithsonian Folk Life Festival
Jun 27 – Jul 1 and Jul 4–Jul 8, free
-also free shuttle to and from
Anacostia Museum



Day of Atonement
H Street Playhouse
1365 H St., NE
Washington, DC
Thu-Sat Jun 28-30, 7:30p
Sun, Jul 1, 2:30p, $25


Workshop 2:
July 10, 7p-9p


Workshop 3:
August 4,10a-12p


337 Brightseat Road
Suite 220
Landover, MD
301.500.5061, $30.00


Interior Design 101


Workshop 2:
July 21, 10a-12p


Workshop 3:
August 2, 7a-9p


337 Brightseat Road,
Suite 220


Landover, MD


301.500.5061, $30.00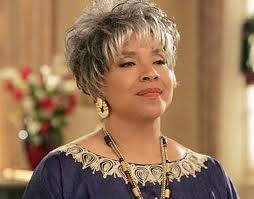 Immediate Family
(directed by Phylicia Rashad)
Goodman Theatre
170 N. Dearborn
Chicago, IL
312-443-3800
Through Sun, Jul 8
$20-$54




½ Gary Southshore Railcats tickets
every Mon-Thu home game
U.S. Steel Yard
Gary residents box seats $5




Junteenth Events


Galveston, TX
(The Birthplace)
Sun, Jun 10–Tue, Jun 19, $



Washington, DC
Atrium National Portrait Gallery
8th and G Sts, NW
Washington, DC
Storytellers, craft workshops
Sat, Jun 16, 11:45a-3p, free

Upper Marlboro, MD


Watkins Regional Park
301 Watkins Park Drive
Sat, Jun 16, noon-5p
Cultural dance, gospel, jazz, free

Harlem
116th (Btwn Lenox, Fifth Ave.)


New York, NY
Sat, Jun 16, 10a-70, free



If you are a Twitter user, you can now get our tweets including the Snippet's headline as a tweet. Facebook users will now find a Port Of Harlem Snippets page (Thanks to those who have already "Liked" us, we appreciate your connection.) You can also sign up for our blog

and add your comments to any of stories at any time.


When you add your comments to a blog, your e-mail address does not appear. You also do not have to use your real name or initials. You can use your "handle" (your Twitter username is referred to as your handle).


Click "Comments"
Under Leave a Comment, click "logged in"
After you register with your username and E-mail address, WordPress will send your password to that E-mail address.
After logging in with your username and provided password, you can have your computer save the usernamen and password so you just make future comments without having to remember them.

After you add to the discussion, see what your fellow Port Of Harlem Snippets readers have to say.


Thanks for joining the conversation.