Blue, Liberal, and Wealthy


List of U.S. States by Income and Political Affiliation lists the states by income and political affiliation and shows that 8 of the 10 wealthiest states are also "blue," liberal and Democratic —including the District of Columbia, Maryland, and California. Among the 10 poorest states, all of them are "red," conservative and Republican—including Mississippi, West Virginia, and Arkansas.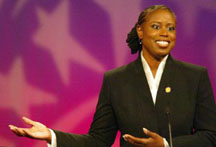 Green Party and Cynthia McKinney


The Georgia Green Party will consider making former six term U.S. Congressperson Cynthia McKinney as its candidate for the fourth congressional seat in 2012. The party convenes Saturday June 2 from 10a till 4p at the Tucker-Reid H. Cofer Public Library; 5234 LaVista Road; Tucker, GA.


The Life of Julia
Take a look at how President Obama's policies help one woman over her lifetime—and how Mitt Romney would change her story, from the Obama 2012 campaign's perspective.


War on Women Continues


The Paycheck Fairness Act is expected to come up in the US Senate next week. Obama is for it, some business groups are against it. Romney is silent.


Jungleland? New Orleans Community Activist Rejects NY Times Depiction of 9th Ward

By Jenga Mwendo
America's Wire Writers Group



The New York Times Magazine recently ran a story on my home, the Lower Ninth Ward of New Orleans, a place one of the most powerful newspapers in the world insensitively dubbed a "Jungleland." Contrary to the article, residents of this community are not reconciled to life in the wilderness and we don't live in an untamed mess of overgrowth or in a forgotten wasteland. We are not resigned to anything; we are fighting to revive our community.

Yes, many parts of the Lower Ninth are overgrown and neglected, but what the article missed is that many are not. Moreover, the untold story is how the city, state and federal government abandoned this community.


DC Statehood Concerts
Upper Senate Park
NJ and Constitution Aves


(just north of U.S. Capitol Bldg)


Wed, May 30, noon-9p, free


(Free and Ayana Gregory performs @ 7p)


DC Caribbean Filmfest
AFI Silver Theatre and Cultural Center
8633 Colesville Road
Silver Spring, MD
Fri, Jun 1–Mon, Jun 4, $


Workshop 1: June 5, 7p - 9p


Workshop 2: July 10, 7p - 9p


Workshop 3: August 4,10a - 12p


337 Brightseat Road, Suite 220
Landover, MD
301.500.5061, $30.00




Interior Design 101


Workshop 1: June 7, 7p-9p


Workshop 2: July 21, 10a-12p


Workshop 3: August 2, 7a-9p


337 Brightseat Road, Suite 220


Landover, MD


301.500.5061, $30.00


Amateur Night at the Apollo


253 W 125th St


Harlem, NY


Wed, Jun 6, 7:30p,$19-$29


Grant Park


Chicago, IL


Fri- Sun Jun 8-10, 11a-9:30p/9p Sun, free

Simmie Knox - Mason Archie - Morris Howard
I Dream A World: Paintings inspired by the
poems of Langston Hughes
Parish Gallery
1054 31st St. NW
Washington, DC
Showing through Tue, Jun 12, free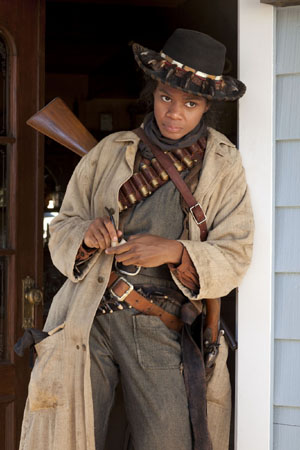 Gifted actress Kimberly Elise is part of an all-star cast in Hannah's Law, a film about justice and revenge in the Old West, set to premiere on the Hallmark Movie Channel Saturday, June 9, 2012. Hannah's Law is the third film that Elise has appeared in alongside Danny Glover. However, she said, "Unfortunately, Danny and I didn't have any scenes together in this production."


In the film, Elise is Stagecoach Mary and Glover portrays outlaw/rancher Isom Dart. Elise told me, "I have always been a fan of westerns since I was a little girl and saw my first Clint Eastwood film, so to have the opportunity to be a part of one, not to mention to play a true life legendary African-American female cowgirl, was something I couldn't miss."


As the first African-American woman employed as a mail carrier in the United States, "Stagecoach" Mary Fields was a former enslaved African who delivered mail in the dangerous and deadly Old West. As Stagecoach Mary, Elise had to drive a stagecoach and wield antique weaponry.


To hone her cowgirl skills, Elise trained for a couple of weeks with some of the best cowboys and horse wranglers in the world. About her training, she said, "We begin very simply with me just walking behind a horse until I was actually driving a huge stagecoach pulled by four horses running at full speed. It was exhilarating and gave me a great sense of accomplishment." The Minneapolis native continued, "This project was definitely actor's heaven for me."

Elise has been busy on the small and big screens from Girlfriends and the Ditchdigger's Daughters to Beloved and Tyler Perry's For Colored Girls, but I wanted to know if she plans to return to the theater. She said, "When the right part comes along I will return. As with any project, it has to speak to me on some level, so far, that play hasn't shown up and if it doesn't, I will produce my own."