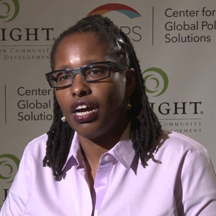 Debates on America's growing income equality are fast becoming a very hot topic from presidential contenders Hillary Clinton and Marco Rubio to the rioters in Baltimore. However, will any one of them present the facts and embrace solutions similar to those presented at the recent Color of Wealth Summit?
At the 2015 Color of Wealth Summit on Capitol Hill in Washington, DC, panels of experts revealed facts and stories related to the huge wealth gap between White and other Americans.
The Center for Global Policy Solutions
held the day long discussion which also included presentations on solutions such as the expansion of programs that provide financial support accounts to Americans at birth.
Anne Price (pictured left), Managing Director of the Oakland based
Insight: Center for Community Economic Development
, provided one of the most profound presentations that clarified how economically disadvantaged Black America is when compared to White America. Price and Trina Spanks, Associate Professor of Social Work at the University of Michigan, who presented at the 2011 Summit, agreed that programs that provide capital for young adults independent of their families' economic condition and decisions will help close the wealth gap and provide a more level playing field for all American children.
During her presentation, Price provided the following startling data from
Umbrellas Don't Make it Rain: Why Studying and Working Hard Isn't Enough for Black Americans
:
Education
is not the Great Equalizer
A Black with a COLLEGE DEGREE has about $23,400 in wealth
A White with LESS than a HIGH SCHOOL diploma has about $34,700 in wealth
(Wealth is not income. Wealth is the amount of money a person or household has AFTER they pay all their bills.)
Family Income
in not the GREAT EQUALZER
A Black family earning more than $93,000 per year, has about $138,000 in wealth
A White family earning between $57,109 - $93,000 per year, has about $146,000 in wealth
Employment
is not a Great Equalizer
A Black working FULL TIME has about $11,649 in wealth
An UMEMPLOYED White has about $21,892 in wealth
Racial wealth differences cannot be explained by education, family income, or employment says Price. Economists estimate that, by far, the largest factors explaining these differences are gifts and inheritances from older generations including:
a down payment on a first home
a debt-free college education
a bequest from a parent

"Given the roles of
intergenerational wealth transfer
and past and present barriers that have kept Black families from building wealth, private action and market forces alone cannot be expected to address wide-scale racial wealth inequality. Public sector intervention is needed," added Price.
Public Sector Intervention - 529 Plans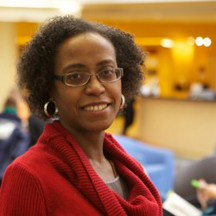 Shanks (pictured left), who is a social worker by training, is one the nation's foremost experts on how wealth shapes child outcomes and supports the development wealth building programs for children. She says, "Children growing up in higher-wealth households experience better outcomes, particularly in areas such as math scores, high school graduation, college enrollment, and college graduation." (See her full report in The Promise of Child Development Accounts: Current Evidence and Future Directions.)

Current state-based 529 plans are tax deferred investment accounts that help families save for their children's college education and provide some relief. They do not address intergenerational disadvantages and Shanks provided data on how infrequent parents use the voluntary savings plans that are supported with public funds. "Only three percent of all U.S. households participate in college savings plans now offered in every state and only 6 percent of U.S. households with children under 25 participate in such 529 plans," she says.


Programs in Canada and Maine Encourage the Poor to Participate

For America's northern neighbors, Canadians faced low take-up rates to its Registered Education Savings Plan (RESP), which are similar to U.S. 529 college savings plans, but households there were offered a universal 20 percent match on contributions made to a RESP for a child under 17. Participation rates have increased steadily since the start of this program in 1998, but low-income families remained persistently unlikely to start an account.

As a response, in 2004, the Canada Education Savings Program (CESP) began to offer an initial $500 deposit, a higher match rate, and subsequent $100 annual deposits for children of low-income families to further incentivize these families' participation.

A program in Maine also found similar participation differences between advantaged and disadvantaged households. From 2008 to 2013, the Harold Alfond Challenge promised $500 to every newborn in the state of Maine as long as parents signed up for a Maine 529 college savings account before the child's first birthday. But many lower-income parents did not "opt in." Challenge recently announced that it would shift to an opt-out policy, meaning the program will include all children unless their parents take action to "opt-out."

Other jurisdictions have similar programs, which often use 529 Plans as their base, including Oklahoma and Nevada, the city of San Francisco, and Cuyahoga County, OH.

However, Price concluded that to address intergenerational disadvantages, Americans would need to embrace strategies such as The Baby Bond program developed by economist Darrick Hamilton and Sandy Darity and discussed in Bold Policies for Economic Justice. "The program is analogous to a social security plan that would provide capital finance that Americans can draw on as young adults and is started at birth," she says.


Further Reading

This story was based on the following two concise report:

Umbrellas Don't Make it Rain: Why Studying and Working Hard Isn't Enough for Black Americans from Insight: Center for Community Economic Development

The Promise of Child Development Accounts: Current Evidence and Future Directions by Trina Shanks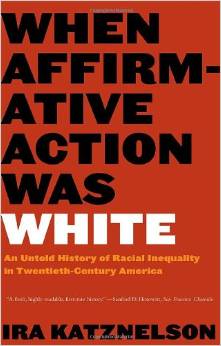 Recommended by Julianne Malveaux, who hosted a panel
When Affirmative Action Was White

The 535 Report: A Pathway to Fundamental Tax Reform
By Dorothy A. Brown

H.R. 40, Commission to Study Reparation Proposals for African Americans Act

From Our Archives

America's Chief Moral Dilemma

Whatever Happened to the Revolution? - The Americas: Looking Back With Richard Hatcher

Expanding Age Gap Between Whites and Minorities May Increase U.S. Racial Divide