Features



Looking Back With Richard Hatcher
the dean of Black mayors

By Wayne A. Young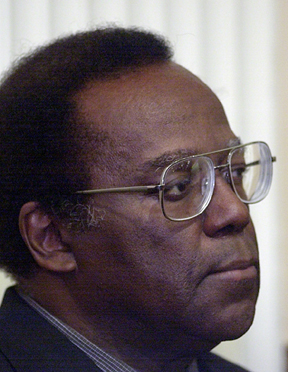 The 1967 elections of Carl Stokes in Cleveland and Richard Hatcher in Gary represented major victories for the civil rights movement. Before their elections, never had voters elected an African-American to manage a major American city. After the elections, there was hope that Black Americans would soon reach the promised land with Black dominated communities becoming multiracial model cities.


Stokes led Cleveland for four years. Hatcher remained for tweenty. Other Blacks have since followed their paths. "The thing that I'm most proud of knowing is that our progress as a people will continue. We've advanced to a certain point and now others are picking up the mantel," Hatcher said during our lengthy interview in his ranch style home in Gary.


Despite the increased number of Black elected officials, the vast majority of urban, suburban, and rural Black communities still lag behind their White counterparts. Hatcher said his experiences in Gary demonstrate how forces beyond the power of the mayor - - county and state governments, the business community, and universities - - affect even the best plans to make a neighborhood or city a model community.


---
"There could be no political decisions made in the City of Gary unless there was a Black or Blacks in the room," he said. The problem was that, "all the major economic decisions in the city were being made in rooms where there were no Blacks at all. In the end, the economic decisions were far more powerful than the political decisions," counseled Hatcher.


---

"We needed the support of all those entities," Hatcher said, "What we got was absolute and total hostility from those entities." For instance, during Hatcher's tenure, White-Republican controlled Indianapolis received monetary support from the Indiana state legislature to build their convention center. Black Democratic-controlled Gary got nothing. "Our convention center is probably the only convention center in the U.S. that was built entirely with federal funds," he explained.

At one point during his administration, more than 60% of the city's budget came from federal programs. However, his ability to attract federal funds only angered those who began divesting the city after his election.

In short, said Hatcher, the Gary experiment proved that having Black political power is not enough. "There could be no political decisions made in the City of Gary unless there was a Black or Blacks in the room," he said. The problem was that, "all the major economic decisions in the city were being made in rooms where there were no Blacks at all. In the end, the economic decisions were far more powerful than the political decisions," counseled Hatcher, who now teaches law at his alma mater, Valparaiso University.

Despite its limited power, Hatcher urges politicians to use their political muscle to advance the race. "If you can't use the political control to achieve economic parity, economic justice, and equal opportunity for Black people, than you are really wasting your time," he argued.

Despite the city's legacy of having the courts convict two former mayors of crimes and the constant investigations and charges of corruption by the local White media, the legal system never found Hatcher guilty of any crime. Given America's Black incarceration record, Hatcher added, "If I had ever stolen a dollar, I wouldn't be standing before you. I would be sitting in some federal prison."

The accusations of wrongdoing; however, did affect his ability to govern. "If you are constantly being forced to respond to rumors," he continued, "it's very distracting. It slowly and systematically erodes your credibility with the people. If the people don't believe in you, then they will not respond to your leadership."

However, Hatcher admits that his administration could have been more successful if it was not for Black factionalism and if he could have motivated more Gary citizens to spend more of their money in the city. "It was frustrating," he rationalized, "In one sense I understand. Think how long we have been conditioned to believe that anything White was better."


From the Nov 2005 - Jan 2005 Issue: Whatever Happened to the Revolution?

Related Articles

Hurt Feelings Continue over Northwest Indiana Town's Creation

America's Chief Moral Dilemma

Selected Quotes By Martin Robison Delany, Published in 1852