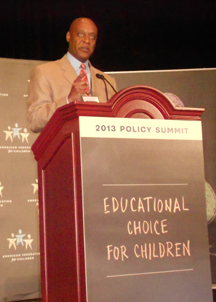 Former DC Councilperson Kevin Chavous served as Master of Ceremonies for The American Federation for Children (AFC) luncheon. The gathering of school choice advocates called from more free market approaches injected into the American school system.

His Eminence Donald Cardinal Wuerl, Archbishop of Washington, DC, praised Washington's Opportunity Scholarship as a program that other states should follow. The scholarships provide poor parents public funds to send their children to the private school of their choice.

During his speech, Indiana Governor Mike Pence made an historical observation. He harked back to 1963 and the Civil Rights Movement when Whites told Blacks wanting to attend nearby Whites-Only public schools, "You cannot come in." Now, he says, the power elite says, "You cannot come out." However, one National Education Association attendee said many people are "not against school choice, but privatization" since children of the least motivated parents will still need good public schools.


For school choice options to be effective, says Bob Smith, former CEO of Messmer Catholic Schools, "We have to offer some education to parents - - and that costs - - if we are truly partners," in their children's education.


To evaluate schools, parents can use the Great Schools website. Parents can also do personal visits. Smith says he judges his Milwaukee schools by seeing how clean the bathrooms are, the neatness of the library, how much information is provided about the school's less dominant group and the cleanliness of the classrooms.



Editor's Note: One vendor at the conference was Shepherds College, a faith based private school that provides culinary, horticulture and independent living training for young adults with intellectual disabilities. Students attending the school are allowed to use federal student aid money.