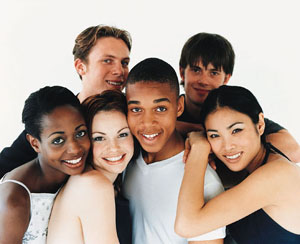 Since its founding, the country has been run by WASPs (White Anglo-Saxon Protestants). That era appears to be over now. Neither the Democratic nor the Republican ticket has any WASPs on it. While Obama is a Protestant, he isn't (fully) White and Joe Biden is a Catholic. On the Republican side, Romney is a Mormon and Ryan is a Catholic.
Neither of the leaders of Congress are WASPS. Speaker John Boehner is a Catholic and Senate Majority Leader Harry Reid is a Mormon. House Minority Leader Nancy Pelosi is a Catholic although Senate Minority Leader Mitch McConnell is a Baptist (who are Protestant).


The Supreme Court is a complete shutout for the WASPs. The current Court consists of six Catholics and three Jews. For the first time in history, there are no Protestants at all on the Court.


Thus of the top 17 positions (four national candidates, four leaders in Congress and nine Supreme Court Justices) the only WASP is Mitch McConnell. Four of the 17 are women. This is an astounding change in a fairly short time. Back in the 1950s, something like this would have been unthinkable.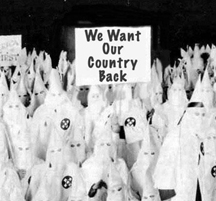 One cannot but wonder if a lot of the hatred and partisanship in politics (e.g., the appearance of the Tea Party out of nowhere) is a manifestation that the guard is changing and the people who used to run the show don't any more. Some of them may not be taking the end of their monopoly graciously.


From an Earlier Snippet: David Duke: Will the White Race Survive?

Duke is a former Grand Wizard of the Knights of the Ku Klux Klan, an American activist and writer and former Republican Louisiana State Representative.