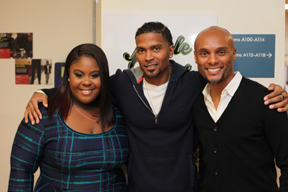 University of Southern California graduate and world class sprinter
Michael Walton
(photo left, middle) is an active philanthropist who calls the District of Columbia home. In 2002, he created the Michael Walton Foundation as a way to give back to and connect with the DC community. Recently, the Foundation enlisted the help of fellow celebrity Washingtonians
Raven Goodwin
and
Kenny Lattimore
to teach, encourage, and motivate young Washingtonians.
Through the Foundation's partnership with Friendship Collegiate Academy in Washington, DC, they held a day-long
Let's Make History
event where the celebrities motivated the students to create successful destinies and thus become a part of history. During the sessions, the celebrities, along with local volunteers helped fulfill the Foundation's purpose of fostering leadership skills in young people by helping them identify and cultivate their talents, set goals, and make informed career choices.
"Through this forum we were able to show high school students that we, as a community, care enough about them to plant seeds of positive achievement in their lives," said Walton.
For Goodwin, her achievements in acting started at the tender age of 4. For many, she may be best known as Teddy Duncan's best friend, Ivy Wentz, on the Disney Channel's
Good Luck Charlie
. However, these days devoted fans tune in to see her every week on the groundbreaking BET drama series,
Being Mary Jane
.
Goodwin went on to say that she really tried to connect with the students at the expo. She added, "Hopefully, I can help them understand me, because we are all the same," as she recalled being a "popping gum and jumping double-dutch," youngster in DC who used "profanity."
However, Goodwin clarified that her future includes resuming her education in film school. She also wants to continue working as an actress and teach and develop new talent.
The beloved Lattimore is an award winning singer-songwriter who is keenly aware of the importance of helping others. He has his own charity, the Kenny Lattimore Foundation, which mentors youth in arts, entertainment, and education. Nevertheless, he was excited to participate in Walton's DC event.
Lattimore, who is on tour promoting his new record,
Anatomy of a Love Song,
shared that he often returns home to DC. He added that he is grateful for the platform he has in the music industry because it gives him an opportunity to work with kids. He continued, "Finding a connection is challenging sometimes, but finding a connection with young people so that you can give them some information that can impact their lives is so important."
As an involved Dad with a pre-teen son, Lattimore is concerned about the perception of Black fathers. He explained, "It is of tremendous importance that we get behind our kids and be present and a part of their process of development." As for his new record, he added, "I always try to do music that represents the total person and our total life experience."
"Through workshop sessions and keynote speeches from stars like Kenny and Raven, students got a first-hand lesson on perseverance and got plenty of social and emotional tools that they can use throughout their high school journeys," Walton added. While the DC natives felt compelled to inspire youth in their hometown, they often look to each for support. Walton said of himself, Lattimore, and Goodwin, "we inspire each other."