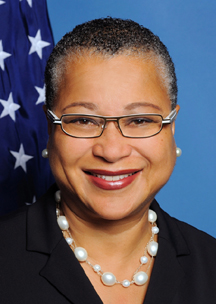 The U.S. Small Business Administration (SBA) announced a new program during a recent luncheon to help boost government contract opportunities for women-owned businesses. The program created with American Express OPEN and Women Impacting Public Policy will deliver free events and workshops, create mentorships and offer online courses.


During the luncheon, Antonella Pianatlto, VP of Government Affairs at American Express OPEN, urged women to "step up and seize the opportunity." Former Verizon Executive and one time DC Mayoral candidate Marie Johns (pictured above) noted that small businesses employ ½ of the people in private sector American jobs and that is why the Obama administration and others support the development of small businesses. Johns, who is the Deputy Administrator at the SBA until May, continued by urging women to get into the game. She added, "If we challenge her, we will get it done."


Upcoming Luncheons:
Phoenix, AZ – Wed, June 12
Seattle, WA – Mon, June 17
Denver, CO – Tue, July 16
New Orleans, Atlanta, San Francisco, and New York – to come


Note: Snippets will make the ChallengeHer website available upon its release.

Free Webinars: Give Me 5 Webinars provide hour-long webinars throughout the year for business owners interested in securing government contracts.