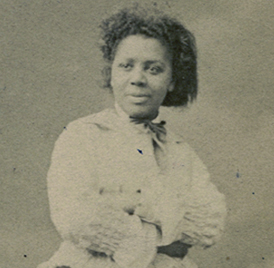 The Walters Art Museum in Baltimore announced the discovery of a previously unknown photograph of Mary Edmonia Lewis (1844-1907), the first 19th-century African American sculptor to receive international recognition. Prior to this discovery, there existed only seven known photographs of Lewis, all taken at the same sitting in Chicago around 1868-70 by photographer Henry Rocher.

This previously unknown image was shot in Rome between 1874-76 by the prestigious Italian studio of Fratelli D'Alessandri, photographer of Pope Pius IX. It sheds new light on the artist and her commitment to using photography to promote her image. The worn 4 x 2.5" photograph was the 19th-century equivalent of a visiting or calling card called a carte-de-visite or cdv.


While on a research sabbatical, Walters Deputy Director of Audience Engagement Jacqueline Copeland found the Lewis image in a box of photographs of unnamed African American men, women and children in a Baltimore antique shop.


"I was ecstatic when I realized that this unidentified Black woman standing proudly and confidently in a 19th-century dress was Edmonia Lewis since so few images of her exist," said Copeland. "In 2002, the Walters acquired Edmonia Lewis' 1868 bust of Dr. Diocletian Lewis (no relation) through a generous grant by Baltimore philanthropists Eddie and Sylvia Brown. It was one of the first works by an African American artist to enter the museum's permanent collection. This newly discovered photograph will be added to the Walters' archives for further study and scholarship about this artist," she continued.