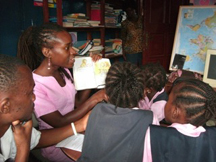 Robtel Pailey reading to
young Liberians
It was a dog-eared copy of
Breath, Eyes, Memory
, a coming-of-age story loosely based on the life of its Haitian author, Edwidge Danticat. I found it on the bookshelf of my local library, a red-brick building in the heart of Washington, D.C., with life-sized Egyptian pillars.
I was 12, and the protagonist, Sophie Caco—an immigrant from Port-au-Prince who moves to New York to reunite with her mother—gave voice to my very own story of migration. It appeared as if Danticat were speaking through me, to me, and about me, all at once. This book was the closest I could find to an authentic Liberian story while abroad, far removed from the grotesque images of war and carnage on international newsfeeds. After reading it close to 10 times, I eventually bought my own copy.
Since then,
Breath, Eyes, Memory
has been replaced by a number of other loves, but none more gratifying than the love of reading. Whenever my world seems to be teetering on an edge, reading brings me back to center. Reading gives me the vocabulary to express myself intellectually and emotionally. Reading makes me appreciate the power of words.
Publisher's Note:
Born in Monrovia, Liberia, Robtel Neajai Pailey, was a contributor to
Port of Harlem
and is now an opinion fellow with New Narratives, a project supporting leading independent media in Africa. She is currently pursuing a doctorate in Development Studies at the University of London's School of Oriental and African Studies, as a Mo Ibrahim Foundation Ph.D. Scholar.