Bachman Now Attacking Muslims
Congressional Black Caucus member Keith Ellison (D-MN), the first Muslim elected to Congress, criticized former Republican presidential candidate Rep. Michele Bachmann (R-MN) and four other Republican members of Congress about their request that various agencies investigate whether the U.S. government has been infiltrated by Muslim extremists.

Republican Senator John McCain (R-AZ) took to the Senate floor the day after Ellison's remarks to join him in criticizing the request.



Bachmann is joined in her request by Rep. Louie Gohmert (R-TX), Trent Franks (R-AZ), Rep. Thomas Rooney (R-FL) and Rep. Lynn Westmoreland (R-GA).



Among the issues they raise is a claim that long-time aide to Secretary of State Hillary Clinton, Huma Abedin, has three family members connected to the Muslim Brotherhood and is at risk of being influenced by her family members.



Voter Access Battles Continues –
NAACP Wins in Wisconsin


Wisconsin Circuit Court Judge David Flanagan issued his decision to block Wisconsin's photo ID law, declaring Wisconsin's photo ID law the strictest in the nation.

The Milwaukee Branch of the NAACP, Voces de la Frontera, and twelve individuals partnered in the fight against Wisconsin Act 23. The act requires photo identification to cast a ballot, including absentee ballots. Only around 80 percent of Wisconsin residents already registered to vote possess a driver's license that meets the Photo ID requirements of Act 23. In addition to obtaining a WisDOT Division of Motor Vehicles issued driver's license or alternative ID, a certified birth certificate would have been required.




Virgil Goode Hurts Romney in VA
Public Policy Polling has released a new poll in the state of Virginia including native Virgil Goode, nominee of the Constitution Party. If Virgil Goode gets on the presidential ballot in Virginia it could spell trouble for Mitt Romney. Goode pulls 9% of the vote, getting most of his support from Republicans and conservative leaning independents. With him in the picture, President Obama's lead pushes out to 14 points over Romney at 49-35. Goode says he has enough signatures to get on the ballot, but is still seeking more for a cushion.


Speaking at a conference on unmet oral health needs sponsored by the Morehouse School of Medicine and the Sullivan Alliance, former Surgeon General David Satcher said that profound oral health problems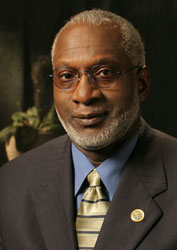 still exist for large portions of the population and issued a renewed call for action to expand access to oral health care, particularly in light of the millions of children expected to gain dental benefits through the Affordable Care Act in 2014 (Obamacare).


Tooth decay is the most common chronic disease among children, five times more prevalent than asthma. Close to 50 million people live in areas where they have difficulty reaching a dentist, and millions more can't get care due to cost. Poor oral health can lead to serious health consequences later in life, including diabetes and heart problems.


As part of the provisions enacted under the Affordable Care Act, more than five million additional children will be entitled to dental health benefits. More than a dozen states are exploring creating new midlevel dental providers, also known as dental therapists, to expand access to preventive and routine dental care.


The Harlem Chamber Players
with conductor Tali Makell
West Harlem Piers Park
130th and the Hudson
Fri, Jul 27, noon, free


Ramadan Events
America's Islamic Heritage Museum
Sat, Jul 28; Tue, Jul 31; Sat, Aug 4
2315 MLK Ave, SE
Washington, DC 7:30p-10p
202 610-0586


Workshop 2:
Jul 21, 10a-12p


Final Workshop:
Aug 2, 7p-9p


337 Brightseat Road,
Suite 220


Landover, MD


301-500-5061, $30.00

St. George's College
Old Boys' Association
(Ontario Chapter)
Summer Ball 2012
Le Parc Banquet Center
8432 Leslie Street,
Leslie, Ontario
Fri, Aug 3, 6:30p, $95


Final Workshop:
Aug 4,10a-12p


337 Brightseat Road
Suite 220
Landover, MD
301-500-5061, $30.00

2012 Summer Spirit Festival


Erykah Badu, others and
BZB Marketplace Merriweather Post Pavilion
Columbia, MD
Sat, Aug 4, 4:30p, $

Soul Food Extravaganza
Julia Davis Park
Boise, ID
Sat, Aug 4, 11a-8p, $



½ Gary Southshore Railcats tickets
every Mon-Thu home game
U.S. Steel Yard
Gary residents box seats $5




Afro-British and celebrated micro-sculptor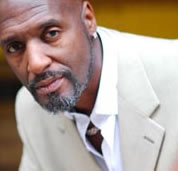 Willard Wigan will be at Parish Galley in Washington, DC Friday, August 3 for theopening of his exhibit that will run until Thursday, January 31, 2013. He currently also has exhibits in his native England, Belgium, France and China.




The American exhibition will include 10 new pieces of micro-sculptures that are so tiny they fit in the eye of a needle. The sculptured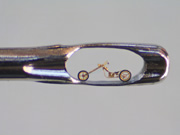 pieces are housed in cases incorporating microscope lenses focused on the work. Collectors of Willard's work include Prince Charles, Sir Elton John, Mike Tyson and Simon Cowell.


Born in 1957 in Birmingham, England, Wigan began his artistic life at a very young age. "It began when I was five years old," says Willard. "I started making houses for ants because I thought they needed somewhere to live. Then I made them shoes and hats. It was a fantasy world I escaped to where my dyslexia didn't hold me back and my teachers couldn't criticize me. That's how my career as a micro-sculptor began."


The opening reception is Friday, August 3 from 6p to 8p at Parish Gallery-Georgetown, 1054 31st Street, NW in the Canal Square shopping arcade.