Estevanico, the first non-Native American to visit what is now Arizona and New Mexico, was not only of African descent, but was a Muslim. So was Salem Poor, Yusuf Ben Ali, and Bampett Muhamed. These were early Americans who many forget were Africans and even more forget or never knew were Muslims. That's about to change with the opening of the Islamic Heritage Museum in Washington, D.C.
From America's earliest times, the exhibit moves to the 1700s. With copies of early U.S. Census records, the curators count 292 Civil War veterans with Muslim names.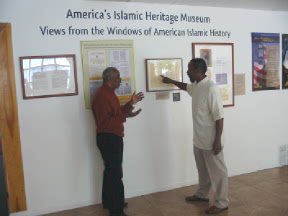 While historians continue to find African-American cultural expressions that have roots in Africa (such as the making of sweet grass baskets), museum cofounder Amir Muhammad revealed another tradition rooted in Islam: the holding of one finger in the air to symbolize one God. One exhibit displayed old graves of Muslims with such carvings. Muhammad also explained that when the enslaved built the historic
First African Baptist Church in downtown Savannah
in the 1850s, they wrote in Arabic (an indicator that writers were educated Muslims).
The museum also includes recent American Islamic history including the rise of the Nation of Islam. Muhammad explains that the movement was the "seed of growth" of Islam in America. The spacious museum also includes the pictures of America's first Muslimah judge, Zakia Mahasa of Baltimore, MD, who Port of Harlem featured as our November 2001 to April 2002 issue's cover story, and the two Muslim U.S. congresspersons, Keith Ellis (Democrat-Minnesota) and André Carson(Democrat-Indiana).
Cofounder Amir Muhammad and his wife, Habeebah Muhammad, who works for the Smithsonian Anacostia Museum of African-American History, first conceived what is now the museum as a traveling exhibit called "
Collections and Stories of American Muslims
" in 1996. The traveling exhibit later became an exhibit at the Anacostia Museum and a website.
The museum is closed Mondays, open 10a to 5p Tuesday through Saturday, and open Sunday from 11a to 5p at the former Clara Muhammad School, 2315 Martin Luther King Ave. SE . Entrance fees are $7 for adults, $5 for seniors and students, and $3 for children 6-12. Groups of 10 or more get a discounted rate of $3 per guest. To learn more, call 202 678-6906.
A Charitable Organization Opens Next Door

Zakat Foundation of America (ZF), an international charity organization, plans to open an office next door to the museum by July 2011. ZF's goal is to address immediate needs and ensure the self-reliance of the poorest people around the world with Zakat and Sadaqa dollars of privileged Muslims and the support of other generous donors. It is the organization's belief that those whom God has granted wealth need to cleanse that wealth through charity and those whom God has tried with loss are accorded a rightful share from the resources of the affluent.

Photo: POH Publisher Wayne Young with Amir Muhammad.