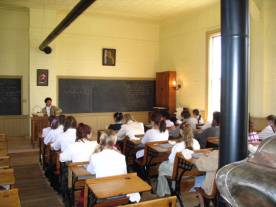 About an hour drive from Detroit, a 6th generation descendant of an escaped enslaved American is looking forward to the 86th Annual North Buxton Reunion Friday, September 3 to Monday, September 6. "The Labour Day Homecoming is about family and friends - it's like a renewal of your soul and spirit. So many people who have ties to the community return with their children, grand children and great grandchildren to find their roots, re-connect and to get grounded," says Shannon Prince.


The Sunshine Club of the British Methodist Episcopal (BME) Church initiated the first homecoming in 1924. (Many of the BME Afro-Canadians had roots in the African Methodist Episcopal Church, but formed their own denomination and selected the BME name to display their appreciation for finding a safe haven from slavery in British North America. (also known as Canada)).


Those gathering at the reunion will be mostly descendants of those who fled slavery in America. They fled to Canada where the British were still in control and had already abolished slavery.


The Buxton Settlement became home for approximately 2,000 people of African descent, many of whom returned to the United States and held positions of prominence because of the opportunities they had while in Buxton and other parts of Canada. Many famous "African-Americans" have lived or visited the settlement including Martin Robison Delany (The Father of Pan-Africanism), and activist, teacher, and publisher Mary Ann Shadd Carey.


Two of the area's first graduates included Dr. Anderson Abbott, who was the first Black Canadian to become a licensed physician and one of eight Blacks to serve as a surgeon in the American Civil War, and James Rapier, Civil War era U.S. Congressperson who represented an Alabama district.


Prince continued, "The reunion is very emotional because you know that some people who return "home" every year won't be here to celebrate with you. It's also a special time to honour our ancestors who have paved this road to freedom for us."


While visiting the settlement earlier this year with other journalist as guests of the Toronto city and Ontario province governments, we stayed in the Retro Suites Hotel in nearby Chatham. Though there are less expensive accommodations in the area, staying in this boutique hotel where each room has a unique theme, is worth the cost.


Photo: School house at Buxton. One of several historic buildings at Buxont Settlement where many of the original descendents still live.