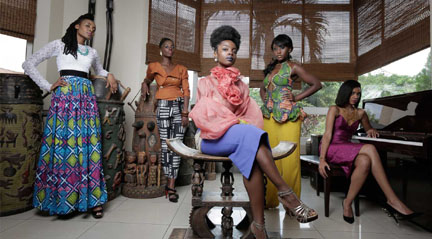 The POH Snippets reader who suggested that we review "
An African City
" called the web series an African version of "Sex in the City." Having not ever seen the television show, I will say "An African City" is as punching as the movie "Waiting to Exhale" and as funny as the TV shows "Living Single" and "Golden Girls." The first episode debuted March 2, 2014. It follows the lives of five beautiful and successful women who confide in one another about their love-lives (or lack thereof) and find new ways to deal with being a 21st century woman in Africa. Each of the women recently resettled in
Accra, Ghana
after living abroad for most of their lives. The characters are drama queens, yes, but they do make interesting and hilarious commentaries on contemporary African life. Each segment is less than 16 minutes long.
Episode One
begins with Nana, draped in western wear and flair, is mistaken as a foreigner by an immigration officer. Later she reinforces this image when she says, "I don't know how I am going to survive without Starbucks Coffee." She questions her decision to return to Accra as she confronts the thoughts of Accra's water rationing and electrical outages much like Racine would in "Living Single."
---
Sade, who loves her wigs as much as comedian Sheri Shepherd, is the least uninhibited one, like Blanche Devereaux of "Golden Girls".
---
However, the five Western-accented women also talk about the things they are enjoying in the homeland such as having coconut drink from a coconut versus a cardboard box. And they relish being able to buy everything from sun glasses to toilet paper from street hawkers while sitting in their cars. Then, they get down to the business of men. Sade, who loves her wigs as much as comedian Sheri Shepherd, is the least uninhibited one, like Blanche Devereaux of "Golden Girls". "It doesn't make her a prostitute, but a woman with a strategic agenda," she advises one of her girlfriends on having a man to buy her what she wants. Bleaching creams, perms, traditional weddings vs western (White/church) weddings to breaking up on Twitter - - they seem to cover every contemporary issue in an entertaining manner just as Terri McMillan accomplished in "Waiting to Exhale." Of course, there are plenty of one liners that having little to do with dating or sex, such as when Sade tells a waiter that her friend is a vegetarian and wants no meat "including goat meat!" She concluded, "Just the leaves like a horse."