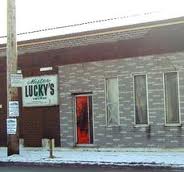 Joe Jackson, father of the late Michael Jackson, honored what would have been his son's 53rd birthday with a visit to Mister Lucky's Lounge at 1100 Grant St., Gary, IN where 6-year-old Michael and his brothers did their first local performance.


"It was . . . 1964 when they started playing here," Joe told the (Gary) Post-Tribune while standing near the bar and a few feet away from where Mr. Lucky located the former stage. "They did five sets a night, six shows a week. A few years later, they performed their record "Big Boy" and they would also do the Temptations and some James Brown, but in 1968 they went from performing for small lounge crowds and talent shows to playing for hundreds of thousands, then millions," he continued.



Joe, along with Gary Mayor Rudy Clay, visited the once-thriving lounge to remove a couple of bricks and autograph them. Mister Lucky's Lounge, owned by Joe's friend, Lorenzo "Mister Lucky" Williams, is now undergoing a careful and strategic deconstruction that will save the bricks and let people own a piece of history (the bricks) and benefit local and nationally based music programs.