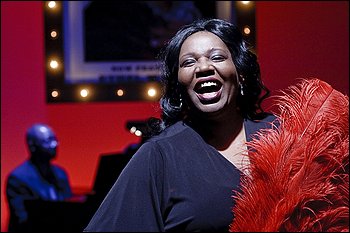 Thursday, February 17 at 6p, Harlem's Hue-Man Bookstore presents Donald Bogle, the preeminent African American popular culture historian noted for his groundbreaking "Toms, Coons, Mulattoes, Mammies, & Bucks: An Interpretive History of Blacks in American Films"as well as an acclaimed biography of Dorothy Dandridge.
Bogle will discuss and sign his exemplary biography of pioneering Broadway, film, recording, and television star Ethel Waters (1896-1977). As a singer Waters introduced such standards as "Am I Blue," "Stormy Weather," and "Heat Wave." She was the first African American to be billed above the title in a Broadway show. Bogle does not shy away from a frank discussion of Waters's bisexuality and her legendary temper born of a lifetime of slights.
His Eye is on the Sparrow (The Ethel Waters Story)
By Wayne Young

Bernardine Mitchell stars in His Eye is on the Sparrow, a revealing story about entertainer Ethel Waters, through Sunday, March 20. Like many of Metro Stage's Black-cultured performances, this one is a one-woman monologue with song. However, this play will be a little bit more riveting for those who know very little about the trail blazing performer.

After hearing Mitchell belt "Stormy Weather," I felt compelled to recall Diana Ross's tribute to Waters in TV's An Evening with Diana Ross (1977). The life of Waters is more than worth an evening of exploration, and Mitchell's portrayal is a great place to start.


Diana Ross and Ethel Waters on Hollywood Palace including Water's startling performance while singing the solo, "Supertime"