Ron Donovan, the creative director and chief shoe builder at RonDonovan, is not discrete about his U.S. Southern heritage. "My parents were both college educated professionals. My mother is a mathematician and my father is an engineer I was born in Orangeburg, South Carolina, and raised in Columbia, South Carolina and Atlanta, Georgia," Donovan exclaimed. "We are a Southern family."
This southerner's interest in shoe making developed after he earned a degree in Industrial Engineering and is a direct result of his inability to find stylish high quality footwear for his 15
1/2 inch feet. "The story is a perfect example of necessity being the mother of invention," said the 6 foot 2 inch Georgia Institute of Technology graduate. He continued, "I literally took my shoe making education into my own hands, tearing apart old shoes to understand their construction."
Today, the shoemaker's company creates ready-to-wear and bespoke (custom) shoes that are "traditional with a modernistic edge." His women ready-made footwear start at $450. His men's shoes start at $750. "The primary differences between luxury footwear and others are the materials, construction and details. These translate directly into comfort, superior styling and continued relevance of the shoes for the wearer," he explained.
And like many companies that sell luxury products, RonDonovan's sales have remained steady during these challenging economic times. "Even during economic downturns, while they may cut back a bit, my clients continue to make luxury purchases. Discretely."
Ron Donovan's are now available in Washington, D.C. at Everards Clothing, an upscale, full service boutique in Washington, D.C. Everards will host a special event RonDonovan truck show Friday, October 1 and Saturday, October 2, 11a-5p. Ron Donovan will be there.
The B Spot!
Opens Mid-September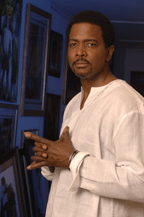 Attitude Exact Gallery has closed its 8th Street, Barrack Row location and is growing into a new location, new name, and a more exciting art gallery, juice bar, and tea house called The B Spot. Watch Snippets for the grand opening at:
1123-B Pennsylvania Avenue SE