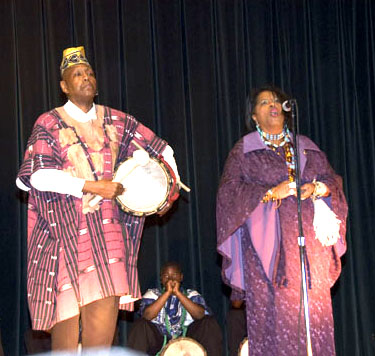 The Ward 7 Arts Collaborative is debuting "The Legacy of Melvin Deal." The documentary features the work of Deal, the founding director of the African Heritage Drummers and Dancers.


"We did a documentary on Melvin because he was here doing the crack epidemic and saved a lot of people, and he has done outstanding work in general in our community," says Wanda Aikens of the Ward 7 Arts Collaborative. Deal, she says, has served the community for more than 53 years. The documentary is available on DVD and is available at no cost at the showing.


The showing is also free Saturday, June 12 from 3p to 6p and includes a performance by the African Heritage Drummers and Dancers at Kelly Miller School, 49th and Clay Streets, NE. There is plenty of free parking.


Port Of Harlem will be there with copies of the latest issue, accepting Snippets subscriptions and selling print issue subscriptions, too. For information about the performance call 202-399.1997.


Photo: Melvin Deal on the drum with Ivy Hylton contributing the vocals. Photo by Bruce McNeil
202-257-4490.