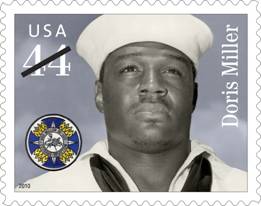 The U.S. Postal Service will immortalize Dori Miller and three non-Black sailors who served during the 20th century when it issues the Distinguished Sailors stamps. In addition to Miller, others commemorated on the stamps include: William S. Sims, Arleigh A. Burke and John McCloy.
Miller was born into a family of sharecroppers and raised near Waco, TX. On September 16, 1939, at age 19, Miller enlisted in the Navy as a mess attendant, the only job rating open to Blacks at the time. While serving aboard the battleship West Virginia during the Japanese attack, Miller helped rescue scores of wounded or trapped shipmates and later helped move the ship's mortally wounded captain to a more sheltered area.
Though never trained in its operation, he manned an unattended 50-caliber machine gun and fired on Japanese aircraft until ordered to abandon the bridge as fires raged out of control (Actor Cuba Gooding, Jr., portrayed Miller in the 2001 film "Pearl Harbor.")
He was killed on Nov. 24, 1943, with more than 600 shipmates when a Japanese submarine torpedoed and sank the escort aircraft carrier Liscome Bay during Operation Galvanic, the invasion of the Gilbert Islands. His body was lost at sea.
Miller received numerous posthumous honors. A destroyer escort, USS Miller (DE-1091), commissioned in 1973, was named for him. A number of elementary schools across the country have been named after Miller; in Waco, TX, a school, park, cemetery and YMCA branch bear his name. A housing project is named for him in Gary, IN.
Although he was only the first of a number of African Americans to be recognized for their heroism in World War II, Miller is singularly remembered for providing inspiration to a campaign for equal recognition and opportunity for Blacks in the military, a campaign that bore fruit in1948 when President Truman ordered, in the midst of controversy "that there shall be equality and opportunity for all persons in the armed forces."