Director Spike Lee is creating a short film on Michael Jackson's life that Lee will likely release in mid-October. Lee recently spent a day shooting scenes for the project at the Jackson family home, 2300 Jackson Blvd., Gary. "This ... is where it all happened! Right here -- 2300 Jackson Street ... the greatest entertainer in the world," Lee said during a brief break between filming.


The Flu shot is $25
The Pneumonia shot is $50
Medicare part B patients are covered for both shots.

Click her for specific times and dates that the protective shots are available. Grubbs Pharmacy is on the corner of 4th and East Capital Streets. Free street parking available on all streets surrounding the store.


New Church Home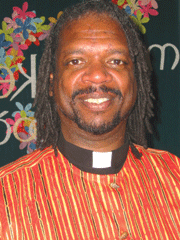 With their new church nearly packed, Inner Light Ministries celebrated their 8th church home. "We have been nomads," preached Bishop Rainey Cheeks. "As in the Bible 8 is the number of prosperity," continued Cheeks, whose sermonette, "Understanding the Radical Inclusiveness
of Jesus" appeared in a recent Port of Harlem print issue. Inner Light purchased the new property after finding that its former home on H Street, NE tripled in rental cost.


The celebration included the blessing of several babies including Ta' Mar, the son of Russell Waters, who grew up in the church, and Janicquea Harold.


Washington, D.C. is poised to become the next jurisdiction to legalize same-sex marriage. Meanwhile, in Louisiana, a justice of the peace (JOP) refused to issue a marriage license to an interracial couple.


After the expected passage of a law making same-sex marriage the law in D.C., Congress has 30 days to reject it or it will become law. (The District is the only jurisdiction subject to such Congressional oversight.) The passage will leave New York as the last state/district headed by a Black person that does not recognize same sex marriage and it is expected to follow suit soon. (South Africa is the only majority- Black country where same-sex marriage is legal.)



According to USA Today, a JOP in Tangipahoa Parish, Louisiana says that he is not racist but that he doesn't "want to put children in a situation they didn't bring upon themselves. I think the children will suffer," says Keith Bardwell. The U.S. Supreme Court made laws that made interracial marriages illegal in 1967.


Meanwhile, the U.S. House passed a bill to expand the definition of hate crimes to include attacks based on sexual orientation and gender identity. If the bill passes the Senate, President Obama says he will sign it.


Sen. Edward Kennedy of Massachusetts, who passed away this August, and Rep. John Conyers of Michigan, who is a member of the Congressional Black Caucus, originally introduced legislation to expand hate-crimes protections in both chambers of Congress in 2001. House GOP minority leader John Boehner calls the bill "offensive."