This is not another vaguely pro-domestic violence diatribe against Rihanna making irresponsible assumptions about the night she assumed bruises from her boyfriend, singer Chris Brown. Whatever allegedly sparked the incident—outside of self-defense—is ultimately inexcusable in civilized society. I am asking that we consider this a chance to save a young, foolish man's life and, if done right, an opportunity to use his example to stave off numerous future acts of young domestic violence.


We have had a similar opportunity before and blew it. Watching the Biggie Smalls bio pic, Notorious, I was reminded at how young all its stars were when they were behaving so badly. The result: Tupac Shakur dead at 25; Big Poppa at 24; Kim damaged; Faith widowed. Most of their mistakes made before their maturing brains fully developed sound judgment and reasoning.


Neither Big nor Tupac had positive male mentors to teach them a different way when it mattered. It does not excuse their many transgressions, nor does it 19-year-old Brown's. But they are gone, celebrated as much for their ignorance as for their prolific gifts by legions of faithful youth, and Brown is still here and, for now, relevant.


How powerful would it be if a group of Black leaders, from pastors to elder rappers, went to Brown to counsel him, and Rihanna too, for that matter? To work with them through their issues and help to create a national youth movement against domestic violence, led by a man-child whose reputation was pristine and a young woman who epitomized feminine strength before being victimized. How much better a message would that send to our children, than one of another Black man ruined, another Black woman made victim, and further evidence of the impossibility of Black love? What's better destroying one abuser or preventing thousands more, through our compassion and his redemption?


____________________________________
Gipson also writes for the print issue's Entertainment


department. E-mail your thoughts to Gipson.


Gambia Project


"Apart from them coming to Juffreh, there is nothing for tourist to take from the family," says Omar Taal, 9th generation descendant of Kunte Kinte. Taal was commenting about the new postcard featuring his mom that Port of Harlem created and delivered to him in Banjul, The Gambia's capital city. "We are very happy with this card. It will provide us with money to develop our village and family," he continued.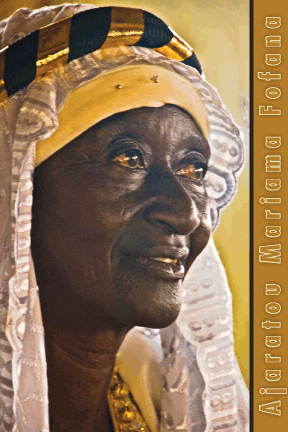 Despite promises from Alex Haley to help the village with basic needs, Juffreh is still without electricity, modern human waste facilities, and family museum. Haley did begin the building of a mosque that Louis Farrahkhan finished.


The POH project plans calls for Taal to sell the postcards to tourists who visit the small village and reimburse Port of Harlem as the profits roll in. "We are giving them a micro-business loan and a plan to help themselves," says publisher Wayne Young. Brian Young of Young Designs provided the graphic design and photographer Barry Williams of Phoenix, AZ provided his services as part of the loan package. Brian Young is also the magazine's graphic artist. Williams is a print issue subscriber.


Photo: Ajaratou Mariama Fofanas is an 8th generation descendant of Kunte Kinte and matriach of the Kinte family in Juffereh, The Gambia. As matriach, she welcomes visitors who pay daily homage to the Kinte household.