Following the success of The Studio Theatre's 2008 hit comes a new play in The Brothers Size trilogy. In the steamy coming-of-age tale the Louisiana Bayou bubbles out of a gumbo of rhythm and sensuality. With In the Red and Brown Water, Tarell Alvin McCraney returns to a world driven by intense music, enflamed passions and spiritual Yoruban myth.


We will select one person to win two tickets to In the Red and Brown Water from all the entries we receive by Sunday, December 20, 2009 - midnight. To enter click here.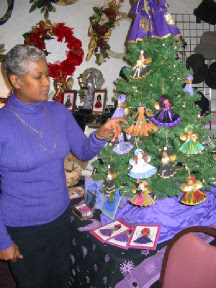 The BZB Black Gift Show continued its 19th year Saturday, November 28 and December 5 at Shiloh Baptist Church with varied venders on one floor. "The crowd was steady," says doll maker Ida Clowney.


"Oh, man I came and they did not have two levels. I guess I will have to come back," says shopper Damita Coats Wray. "But, at least I get the first choice of items," the Bowie, Maryland resident continued. The last two sale shows will feature vendors on two floors.


Lot and street parking, and admission is free for the show at 9th and P Streets, NW. The event opens at 10a and closes at 6p, Saturday December 12 and December 19.


Photo: Hand crafted cards and angels by one of the many unique vendors at the BZB Gift Show.


Click Here to See a Great 50 Second Video of the


Gary, IN
Dog Fashion Contest
Saturday, Dec 12 1p to 3p
Market City
4121 Cleveland Street
219-887-3522, free


Harlem, NY


Kwanzaa Extravaganza
Saturday, December 26, 7:30p
The Apollo Theater
253 West 125th Street
212.531.5305, $20 - $60



New Year's Eve Celebration


Thursday, December 31
Creole Restaurant
2167 3 Avenue
(212) 876-8838
live music, buffet (9p-midnight), $60-$80


Washington, D.C.


21st Anniversary - Shaunte Gates Unveiling


Special Guests: Executive Chefs Mark and John Woods will be preparing culinary delights to tempt your eyes and your palate
Saturday, December 12, 6p– 11p


Attitude Exact Gallery
739 8th Street SE
Washington, DC 20003, free

134th Birthday of Dr. Carter G. Woodson
Saturday, December 19, 6p
The Washington Historical Society
801 K Street, NW at Mt. Vernon Square
202-673-2402, free


Chuck Hick's Annual Christmas Toy and Book Party
Saturday, December 19, 6p to 9p
The home of Dr. Cynthia Worsely
1410 Missouri Avenue, NW
food is free, bring unwrapped new toys and or funds for
benefit children with HIV/AIDS or who have parents with HIV/AIDS.
202-488-3404.



Still Relevant?
By Wayne A. Young


from the Nov 2009 - April 2010 print issue


There was a time when African Americans were openly not welcomed to join White professional, academic, mentoring and other organizations. In response, Blacks created several organizations
including the National Association of Real Estate Brokers (NAREB), The Association for the Study of African American Life and History (ASALH), and the defunct New Farmers of America (NFA).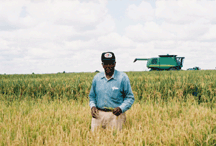 Today Blacks, such as Marshall Purnell, President of the American Institute of Architects, have not only joined previously all-White groups, but recently begun to lead them. So, with new opportunities to join and even lead majority organizations, we asked leaders of several historically Black groups about their
past and current relevancy.
Ironically for NAREB, which started in 1947 in Tampa, FL, its Washington chapter was born first, in 1938, says Scott Akers of Ivan Brown Realty and secretary of the NAREB's Washington chapter.
Through 59 chapters, NAREB represents real estate agents, mortgage bankers and brokers, lending institutions, developers, insurance companies, appraisers, inspectors and investors.


Photo: On his Arkansas farm, Ellis Bell recalls the days when the New Farmers of America (NFA) nurtured him and other Blacks into becoming successful farmers and participants in other segments of the agriculture industry. The historically Black NFA no longer exists and there are now only about 200 African-American
farmers in the United States under the age of 25.


Click here to read the complete story