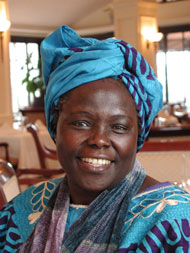 Nobel Peace Prize Laureate Wangari Maathai, who led a movement in her native Kenya to safeguard the environment, will discuss her work after the screening of
Taking Root: The Vision of Wangari Maathai.
The discussion and screening takes place at the National Geographic Center's Grosvenor Auditorium in downtown Washington, D.C.
Tickets are $18 for the general public and $15 for members. A limited number of discount tickets will be available for Port of Harlem Snippets subscribers. See details in an upcoming Snippets.
Maathai became the first woman to earn a Ph.D. and head a university department in that country. She came to international attention as founder of the Green Belt Movement, which helps restore forests while paying women to plant trees. Through the group, she has helped women plant more than 30 million trees across Africa, and has taken courageous stands for democracy and women's rights.
Filmmakers Alan Dater and Lisa Merton, and Chris Tuite, Director of the Green Belt Movement - Washington, will join Maathi in the discussion. The Environmental Film Festival in the Nation's Capital is cosponsoring this event with the National Geographic Society.
Parking is free underneath the National Geographic Center building; 1600 M Street, NW; Washington, D.C. 20036. The Center on M Street between 16th and 17th Streets is two blocks from Farragut North Metro (Red Line) and 3 blocks from Farragut West (Orange and Blue lines). The screening and discussion is Monday, October 6, at 7:30p.
Connect with Port Of Harlem