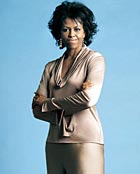 Before jetting off to meet her family, Michelle Obama told a welcoming crowd at The National Congress of Black Women's annual brunch last Sunday that "as a little Black girl from the South Side of Chicago . . . I don't suppose to be here."

After a thunderous and understanding applause at the J.W. Marriot hotel in downtown Washington, the wife of Presidential candidate Barack Obama explained to the mostly female audience that women like her are still "beating the odds." There has never been "a Black women governor, a Black woman Supreme Court justice . . . ," continued the potential first lady.

She went on to give a litany of statistics that show that Black women are often at the bottom of the social and economic barrel. Black women are asked by society to survive, she says, making only "67 cents per every dollar that a man makes." She continued that Black women in particular must demand more out of the various aspect of their lives including personal relationships. She added, "We don't even demand healthy relationships."

As Obama inspired the crowd she revealed what one of her heroines, Coretta Scott King, told her: "'Not be Afraid.'" As for her and her husband's dream for the United States, she says they want an America "where things are possible for all." Barack, she added, does not see America's greatest deficient being financial, but a "sense of mutual obligation."

"We have a chance to make a profound change in America. Maybe we are ready to believe in our own ability. Now is the time. We cannot afford to wait!" she continued as the crowd pushed their brunch plates forward, stood on their feet, and sent our "sister" off to meet her family.