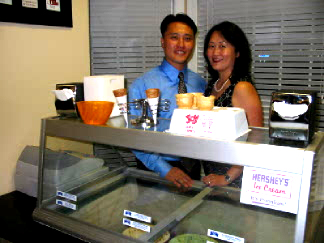 Grubb's Pharmacy is offering flu shots Monday, October 1, 2007 and Wednesday, October 17, 2007 from 10a to 2p each day. The flu shot is only $30.00. The pneumonia shot is $40.00. The shots are free for Medicare Part B eligible patients and Aetna Insurance patients.

Grubb's recently renovated its pharmacy at 326 E. Capitol. The wonderfully designed store includes large picture windows, a tin ceiling, hardwood floor and a small ice cream parlor - - a fixture that is reminiscent of the pharmacies from the past.

Pictured: Howard University graduate Michael Kim of Grubbs Pharmacy with his wife, Joan Kim of Main Street Pharmacy in Laurel, MD, at Grubb's Pharmacy's new ice cream parlor area in the just renovated store.