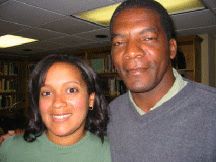 Keepers of the culture from Columbia and Venezuela were in Washington last Thursday to talk about the current conditions of African descendants living in the two South American countries. "Language has separated us," said Marino Cordoba of Columbia to the mostly Anglo-African (English-speaking Black) crowd at the K Street, NW offices of TransAfrica, the leading African-American lobbying group for the African diaspora. "We need to learn each others language," he continued.

Cordoba also called for the support of U.S. House Resolution 618, sponsored by Congressional Black Caucus member Donald Payne (D-NJ). The resolution calls for the Columbian government to do more to end the discrimination, marginalization and violence against Columbians of African descent. Cordoba, who had to flee his birth country after being threatened by the paramilitary, now works for a Latino advocacy group in suburban Washington.

Joining Cordoba were Jesus Garcia, the editor of the journal Africamerica, and Geronimo Sanchez-Garcia, a faculty member of the Instituto Universitaro de Barlovento, one of the few historically Black institutions in Latin America. The later two are from Venezuela, whose President recently made an historic announcement that indicated the historic debt Venezuelan society owes the descendants of enslaved Africans. Unlike the American constitution that defined Africans as 3/5 of a human being (in ancient Egyptian logic five represented a whole human), many Latin countries never legally defined race. Thereforem Garcia sees this as an "advance," and, ironically, is seeking constitutional recognition of African-Venezuelans.

The group of more than 40 who gathered for the session included several multilingual Howard University professors and Jonathan French who had just arrived from Paris for the opening of a photography exhibit that includes his work and featured in past issues of Port of Harlem. Also, in the audience were French, Spanish, and Wolof speakers from Trinidad and Tabago, Panana, Senegal, and several other countries, who dined on African American cuisine. The light menu included fried chicken, fried fish, green beans, cornbread, sweet potatoes, and macaroni and cheese. "The food was good," added Cordoba.



Photo: African-American Nicole C. Lee, TransAfrica Executive Director with African-Columbian Marino Cordoba