With Cheryl Jackson, WGPC's (Heaven 1580) midday host as the Mistress of Ceremonies, Us Helping We held a gospel-explosive evening at the historic Lincoln Theater in Washington Saturday, May 5. Bringing shouts of joy and praise was the Greg Roberts and Soulful Celebration, who performed as a group and as backup singers to LaShaun Pace. Before Karen Clark-Sheard, the evening's head liner, graced the stage, Jackson announced this year's honoree's: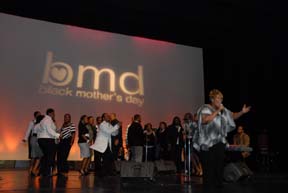 Dorothy Davis, First Rising Mount Zion Baptist Church
Linda G. Harris, Covenant Baptist Church
Elaine Hunt, New Samaritan Baptist Church
Geraldine L. Moon, Faith Temple Church
Mary Jane Patterson, Sargent Memorial Presbyterian Church
Rosa M. Wilson, Lincoln Congregational Temple Church
Dawn M. Womack, Unity Fellowship Church
Explaining why the annual Mother's Day Gala is important in its fight against AIDS, Us Helping Us President and CEO Dr. Ron Simmons said, "We remember the role that Black mothers played in the beginning of the AIDS epidemic. For so many of us, who were living with AIDS, they were our only shelter in the storm. They may not have been our biological mother. They may have been an aunt, a grandmother, an adopted mother, or just a friend. But they helped us when no one else would."

Read Simmons contribution, "Believing in Male Supremacy Will Not Save Us" only in the current print issue of Port of Harlem.


Photo: LaShaun Pace with a little help from Greg Roberts and Soulful Celebration. Photo By Leigh H. Mosley