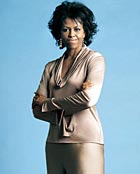 New-York Historical Society's new Women in Public Life series at the annual Strawberry Festival benefit will feature Michelle Obama, attorney, hospital administrator and wife of Democratic presidential candidate Barack Obama, Tuesday, June 26. The N-YHS annual Strawberry Festival dates to June 1856.

Proceeds will benefit the New-York Historical Society programs including major exhibitions and educational programs on American history. Current N-YHSexhibitions include: New York Divided: Slavery.

The former Vice President of Community and External Affairs at the University of Chicago Hospitals, Michelle Obama previously served as Associate Dean of Student Services and Director of the University Community Service Center. In 1993, she was the founding director of Public Allies, an Americorps-funded program that provides leadership skills training to young adults. She also practiced intellectual property law in the corporate sector prior to her tenure as an assistant to Mayor Richard Daley of Chicago.

Michelle Obama graduated from Harvard Law School in 1988 and received her undergraduate degree from Princeton University in 1985; she majored in Sociology with a minor in African-American Studies. She grew up on Chicago's South Side as Michelle Robinson and met Barack Obama when she was appointed his advisor while they were both working as attorneys at Sidley & Austin in Chicago. The couple has two daughters, Malia 8, and Sasha 5, and the family resides on Chicago's South Side.

The event begins at 12:30p and concludes at 2p at The New-York Historical Society, 170 Central Park West at 77th Street between 76th and 77th Street. Strawberry Festival tickets are $300, $600, and $1,000.