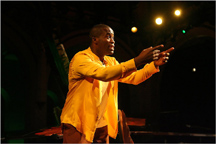 "It was deep and emotional," says 10-year-old Jordan Brown, who was excited that his mother had taken the time to take him and his brother to see Emergence-SEE! The one and half hour production returns, after a sold out weekend run in February 2007, to Arena Stage until Sunday, July 22.

"I have had babies attend my performance with their parents," says Daniel Beaty, the show's solo performer. "A father came up to me and said, 'My daughter might not be old enough to understand what you are saying but I want her to be present for the positivity that this play represents,'" he added in an exclusive interview.

The one-man commentary on Black life revolves around Rodney and Freddy's father, Reginald, who boards Remembrance, a slave ship that rises out of the Hudson River in front of the Statue of Liberty in New York City. Through vivid imagery, slam poetry, and song Beaty amazingly portrays 43 characters that respond to the slave ship.

"My favorite part was when he played the girl with the kinky hair that nobody wanted to play with," says party decorator Melvin Lowe. The girl, Clarissa, is a friend of Freddy and knows about the ship's appearance, but is more concerned about her boyfriend, not having other friends and taking her "cocktail 'medifications.'"

Beaty adroitly plays a host of other characters besides the father, Rodney, Freddy and Clarissa including a Ghanian tour guide, singing panhandler, Jamaican heart-throb and a transgender person named Ashes, who has a startling surprise of her own. Though the character's stations in life are different, Beaty reminds us of our linkages and common lineage.

Dressed casually, Beaty tells part of the story through "The Poetry Slam," which was 14-year-old Drew Brown's favorite part. Jordan's elder brother says the play will help him remember slavery and find himself.

Beaty says that helping people find themselves is part of the play's mission. He added, "Emergence-See! is a celebration of our collective humanity and exploration of what it means to be free. The play is full of humor, music, and inspiration."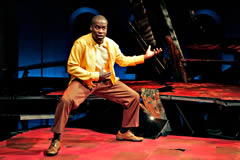 Though most in the crowd were adults, Toni Brown of Silver Spring was happy that she had brought her sons, Jordan and Drew. "We fail our children by not teaching them our history," she remarked after the show and before declaring, "Now, let's go and get some ice cream!"

Show times:
Sundays through Wednesdays at 7:30p
Thursday through Saturday at 8p
Matinees: Saturday and Sunday at 2p

Tickets are $38-$50 plus applicable fees with discounts available for students and groups. HOTTIX, a limited number of half-price, day-of-performance tickets, are available from 90-30 minutes before curtain prior to every performance. FiveTwentyFive TICKETS, a limited number of $10 tickets for patrons aged 5-25, are available for purchase day-of-performance until 30 minutes prior to curtain. ($10 CDs of the performance are available).