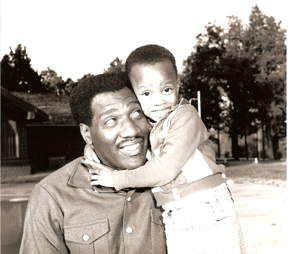 The Stax Museum of American Soul Music (click here to hear Redding's music), located at the site of Stax Records in Memphis, Tennessee, where Redding recorded the songs that captured the hearts of millions, opened "Otis Redding: from Macon to Memphis - An Exhibit from the Private Collection of Zelma Redding" Monday, December 10 in commemoration of Redding's passing.

With items on loan from Otis Redding's widow and daughter, Zelma and Karla Redding-Andrews, the exhibit features a collection of never-before-shown family photographs taken on the Reddings' 300-acre ranch outside Macon, Georgia and shows more than Otis Redding the singer and entertainer. Redding is seen petting his cattle, holding his son Otis Redding III, pitching hay from his barn, and engaged in other activities that portray him at home.

Reddings rise in the music industry was nothing short of meteoric. He arrived at Stax Records in 1962 as the driver and equipment handler for Johnny Jenkins & the Pinetoppers, a band with whom he had occasionally performed in and around his native Macon. At the end of the evening, after having asked all day for a chance to sing, Stax Records founder Jim Stewart and Booker T. & the MGs guitarist and songwriter Steve Cropper gave him that chance. There in the famed Studio A, when Otis Redding began singing "These Arms of Mine," the world changed forever.

For the next five years, Redding would record hit after hit ("Respect," ... "Sittin' On the Dock of the Bay"), take Europe by storm, and enthrall thousands of love children at the Monterey Pop Festival alongside the likes of Jimi Hendrix and Jefferson Airplane. But the world changed again that same year, when, on December 10, 1967, Redding, the pilot, and all but two members of his touring band the Bar-Kays were killed when his plane crashed in Lake Monona, just a few minutes from the airport in Madison, Wisconsin, at the age of 26. Only Bar-Kay trumpet player Ben Cauley survived the crash; fellow Bar-Kay member James Alexander was on a different, commercial flight.
The exhibit is open through April 30, 2008.