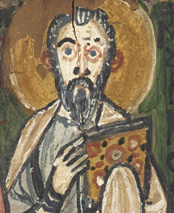 Beginning October 21 the Smithsonian Institution Arthur M. Sackler Gallery, on the National Mall in Washington, D.C., will be the exclusive world venue for one the most important exhibitions of ancient material since that on the African "King Tut." "In the Beginning: Bibles Before the Year 1000" will present some of the earliest biblical artifacts in existence, many never before seen outside of the institutions that lent them.


Highlights of the exhibition includes:


Leaves from three of the six oldest surviving Hebrew codices. (ancient unbound manuscripts)

The oldest known manuscripts of the books of "Numbers" and "Deuteronomy."
One of the earliest known manuscripts of the Gospels written in Latin.
The oldest dated parchment biblical codex in the world.
A page from the earliest Bible with full-page illustration.
The roots of the Bible lie in the Middle East and Africa, and by the year 1000 it reached Europe transforming societies as it went and being shaped itself in turn. The exhibition tells the story of the Bible's journey to Europe and contain fragile fragments of papyrus, early parchment books, gorgeous illuminated manuscripts and sumptuous jewelled bindings — all precious survivors of the holocausts of history.