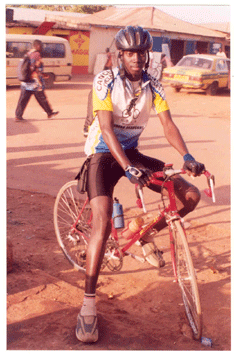 Before reading the November 2002 to April 2003 issue of Port of Harlem (we were then a biannual publication) that featured bicyclist Ivan Dominguez and Rahsaan Bahati, Barbacour Jabai thought cycling was just for children. Now, the 23-year-old accountant for the prestigious five-star Kairaba Beach hotel in Greater Banjul, The Gambia, West Africa recently told POH that he rides his bike every day to work. "I save $2 per day by bicycling to work."

In addition to keeping him physically fit, cycling also saves him time. "It takes my one hour by car to get to work and only 30 minutes by bike," he continued.
He has also hooked up with some fellow Gambians who compete in neighboring French-speaking Senegal. "Now I am training with them in Senegal," added Jabai who speaks his native Mandinka, and Wolof, Fula, French, and English. Meet Barbacour Jabai when Port of Harlem returns to the Gambia February, 2006.