T.C. Carson Stars in Two Queens, One Castle
MetroStage to Host Symposium on HIV/AIDS and the Down - Low Lifestyle
New Panelist Added - Recording Star Jevetta Steele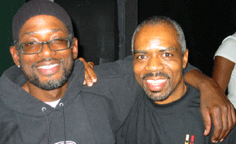 MetroStage, Us Helping Us, and Port of Harlem magazine, will host the Women, Down-Low Men, and HIV/AIDS Symposium on Saturday, January 21, 2006 at 6 p.m. The event takes place at MetroStage, 1201 North Royal Street, Alexandria, VA 22314. The symposium will be followed by a reception at 7 p.m. Afterwards, attendees will see the hit musical stage play Two Queens, One Castle starring T.C. Carson and Felicia Curry. Carson is best known for his role as Kyle on the hit television series "Living Single."

The show starts at 8 p.m. Tickets for the event are $45 and includes symposium, reception, and one theater ticket. A portion of the proceeds from the January 21st event will benefit Us Helping Us, an HIV/AIDS community group. Call 703-548-9044 for symposium night tickets.

The symposium presents an opportunity for concerned community members, activists, and experts to convene and discuss relevant issues including HIV/AIDS prevention and treatment, counseling and health promotion, the down-low lifestyle, and coming-out-in-marriage.

The symposium will feature the following panelists, who will lead a one-hour discussion with the audience:
Ms. Lynne Bennett (not her real name)

– Bennett was married for 14 years when her husband finally confessed that he was gay. Six months later, he revealed that he is HIV positive. They remained together for two more years, before he decided he wanted to move on.
Dr. Ron Simmons

– Dr. Simmons is President of Us Helping Us, People Into Living, Inc. (UHU). The organization is a self-help group for HIV-positive African-American gay and bisexual men. UHU has grown into one of the largest secular gay-identified African-American AIDS organizations in the nation.
Mr. Randy Spires

– After 21 years of marriage and two children, his wife announced on their wedding anniversary that she is a lesbian. Spires is currently the Outreach Director for The Straight Spouse Network (SSN). Founded by Dr. Amity Buxton, SSN aims to help make visible the coming-out-in-marriage phenomenon.
Ms. Jevetta Steele

- With art imitating life,Two Queens, One Castle is the real life story of Ms. Jevetta Steele, a Minneapolis-based entertainer. Steele says faith and family helped her through the ordeal. By sharing her story, she hopes to show that life's trials and tribulations can be overcome. Steele's most recognized accomplishment is the Academy Award nominated performance of "Calling You" for the movie soundtrack Bagdad Café.
Two Queens, One Castle, is a gripping tale of a love triangle of sorts where the wife is indeed the last to know. It's the story of a woman whose husband is rumored to be gay. Although he begs her to stay, she refuses, and a tragic confluence of events unfold which change the relationship forever.

T

wo Queens, One Castle

plays at MetroStage through Sunday, March 5, 2006. Visit Boxofficetickets.com or call 1-800-494-8497 for performances during the run. Call 703-548-9044 for symposium night tickets.