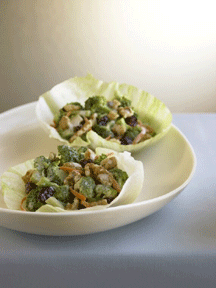 Our print issues feature a delicious recipe similar to this one. In the current print issue we feature Petite Lobster "BLT." To subscribe to the print issue, click here. The following is a recipe for Broccoli Slaw with Toasted Walnuts from the Walnut Marketing Board.

1 cup mayonnaise (low-fat is okay)
¼ cup raspberry vinegar
¼ cup sugar
½ teaspoon salt
¼ teaspoon ground pepper
6 cups (1-1¼ pounds) broccoli florets, cut or broken in half-inch pieces
½ cup dried cranberries
½ cup golden raisins
½ cup chopped, toasted California walnuts
1 medium carrot, peeled and grated


In a large bowl combine the mayonnaise, vinegar, sugar, salt and pepper, and stir until smoothly blended. Blanche the broccoli for 1-2 minutes. Add the broccoli, cranberries, raisins, walnuts and carrot, then stir and toss until the ingredients are evenly coated with the dressing.

Chill before serving.

Serves 8

Nutrition information per serving (using low-fat mayonnaise): 250 calories, 3g protein, 29g carbohydrates, 3g fiber, 510mg sodium, 10mg cholesterol, 14g total fat, 2g saturated fat.

Try the new recipe featured in each print issue of Port of Harlem.

Photos: Left - Broccoli Slaw with Toasted Walnuts.