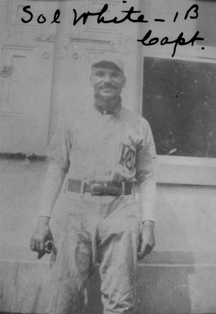 The National Baseball Hall of Fame will induct seven Negro League players, five pre-Negro League players, four Negro League executives, and one pre-Negro League executive into the National Baseball Hall fame in Cooperstown, NY, July 30. A committee of 12 Negro and pre-Negro league baseball historians elected the 17 candidates to the National Baseball Hall of Fame.
The seven Negro leagues players are: Ray Brown, Willard Brown, Andy Cooper, Biz Mackey, Mule Suttles, Cristobal Torriente, and Jud Wilson.
The five pre-Negro leagues players are: Frank Grant, Pete Hill, José Méndez, Louis Santop, and Ben Taylor.
The four Negro leagues executives are: Effa Manley, Alex Pompez, Cum Posey, and J.L. Wilkinson. Manley, an owner in the Negro leagues, becomes the first woman elected to the Baseball Hall of Fame.
The pre-Negro leagues executive is: Sol White.
They will join 18 Hall of Famers from the Negro leagues already enshrined in Cooperstown: Cool Papa Bell, Oscar Charleston, Ray Dandridge, Leon Day, Martin Dihigo, Bill Foster, Rube Foster, Josh Gibson, Monte Irvin, Judy Johnson, Buck Leonard, Pop Lloyd, Satchel Paige, Joe Rogan, Hilton Smith, Turkey Stearnes, Willie Wells and Smokey Joe Williams.
In February 2001, the National Hall and Fame and Museum selected "The Negro Leagues Researchers/Authors Group" research team, led by Dr. Larry Hogan of Union County College (NJ), Dick Clark, and Larry Lester, to conduct a comprehensive study.
The research resulted in a raw narrative and bibliography of nearly 800 pages and a statistical database, which includes 3,000 day-by-day records, league leaders and all-time leaders. The research was culled from box scores from 128 newspapers of sanctioned league games played from 1920-54.
National Geographic, in conjunction with the Baseball Hall of Fame, published a book called
Shades of Glory
, using material from the research study. The book traces the dramatic history of African-Americans and baseball from the Civil War to the present.