Lady Day Opens at Arena Stage - D.C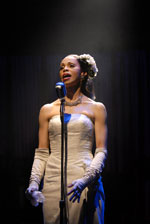 Four months before her death, Billie "Lady Day" Holiday gives one of her final performances for a few regulars at Emerson's Bar & Grill in Philadelphia in Lady Day at Emerson's Bar & Grill at Arena Stage in Washington, D.C. The musical portrait by Lanie Robertson explores Holiday's triumphs and struggles amidst her rise to become one of the country's most renowned entertainers.
|
Between renditions of such classics as "God Bless the Child" and "Strange Fruit," Holiday recounts the highs and lows of her troubled life as an entertainer. Her reflective, but humorous reminiscences and her lyrically nuanced songs that were her "salvation" all contribute to a joyful, riveting celebration of her artistry and life.

Set designer Shaun L. Motley (

Cuttin' Up

) and the design team have further transformed the Kreeger Theater at Arena Stageinto an authentic jazz bar by adding special stage-side "cabaret" seating. Cocktail tables with two chairs surround the stage at the front of the house, replacing the first row of traditional seating. Patrons in all seats are allowed to bring drinks into the theater to enjoy during the play that runs through Sunday, June 4.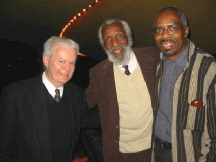 Photos: Left - Lynn Sterling as Billie "Lady Day" Holiday. Right: Arena Stage's Senior Dramaturg Mark Bly with activists Dick Gregory and Publisher Wayne Young during press night. As dramaturg, Bly is responsible for helping to make the play historically correct.