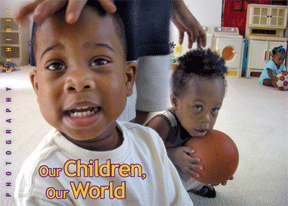 "Our Children, Our World," is a photography exhibition featuring more than 70 images taken by children from Accra, Ghana; Pinar del Rio, Cuba; and Washington, D.C. and Gary, Indiana, USA. using traditional and digital cameras. The exhibition is the result of workshops Port of Harlem magazine photographer Nestor Hernández conducted in each of the cities.

Accompanying "Our Children, Our World," is "Art from Around the World," an artwork exhibit by students at the Patricia M. Sitar Center for the Arts with help from cultural consultants at the Meridian International Center. To create the exhibit, Meridian's cultural consultants from across the globe shared their countries' unique artistic traditions with Sitar Center students. The students' artworks represent those various countries. The Center draws students from the greater Mt. Pleasant neighborhood in Washington, D.C.

Children's National Medical Center
The Gallery – First Floor
111 Michigan Avenue, NW
Washington, D.C. USA

Thursday, September 22, 2005 to
Saturday, January 7, 2006

Opening Reception: Thursday, October 20, 2005

After leaving Washington, the "Our Children, Our World," exhibit continues in Gary, IN Saturday, July 8, 2006 through Saturday, October 28, 2006, as part of the city's centennial celebration.