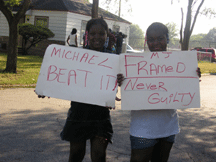 On the day the courts found Michael Jackson not guilty on all charges related to child molestation, conspiracy, and alcohol charges, some Port of Harlem staff members were in his hometown of Gary conducting photography workshops in preparation for the Our Children, Our World exhibit. As the verdict was being read, a small crowd gathered around the TV set at the Gary Public Library. Most librarians stayed at their desk. "He has made more money than I ever will," quipped one librarian who had little interest in the outcome.

At S&C Snacks in the Transportation Center, Wanda Johnson says she believes he molested the others, but not the current accuser. "I don't believe he did it because he was fighting him too much," she says.

At 2300 Jackson Street (the street is named for President Andrew Jackson), where a small band of reporters gathered at the Jackson home to talk to Jackson's relatives who live in the small home, most of the neighbors stayed behind close doors. Only one neighbor and two small children enjoyed the media's interest in the story.

Photo: Only six Jackson neighbors even bothered to show their feelings outside the Jackson's Gary home (shown in background). Photo by Demetrius Woodward. See his photos and that of other children from Ghana, Cuba, Washington, D.C. and Gary, In in the upcoming "Our Children, Our World," exhibition in Washington, D.C. and Gary, IN.