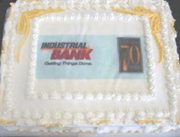 Industrial Bank, the Washington area's oldest and largest Black-owned financial institution, celebrated its 70th birthday Friday, August 20 at its Historic U Street branch at 11th and U Streets NW. Founder Jesse H. Mitchell opened the doors to the bank at that location on August 20, 1934. Today, his great-grandson, B. Doyle Mitchell, Jr. is President and CEO of the bank. TV and radio personality Kojo Nnamdi hosted the mostly outdoor ceremony where the bank revealed new products, services and a window display.

The bank will begin offering its more than 25,000 customers access to more than 25,000 ATMs across the country - - surcharge free and Mitchell announced the bank's year long commitment to financial literacy.

The bank is also offering a special 70th anniversary bonus rate CD. On Friday, August 20, the three-year CD was paying 2.96 percent, with a yield of 2.98.

"Through the years, our commitment to this legacy of service has grown even stronger, and we are continuing our mission of providing convenient, personalized high-quality banking products and services to the communities we serve," said Mitchell, Jr. A unique historic window display that reveals the history of the bank is on display at the U Street Branch.