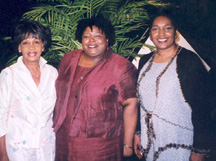 The Black Women's Health Imperative, formerly the National Black Women's Health Project, celebrated Congressperson Maxine Waters' (D-CA) activism Saturday, April 24 during a lavish reception in Washington, D.C. The event was a prelude to the March for Women's Lives.


Lorraine Cole, president of the Black Women's Health Imperative opened the evening by stating that this was the first time the freedom of choice movement had invited African American and Latina women to participate in the formulation process of a major demonstration. "As a result of being at the table during the formative process, this march evolved from solely a freedom of choice rally to a march for women's lives," she said.


In her thank-you speech Waters, said, "I came from a time and place in St. Louis, Missouri where parents manufactured their own children's fillings from turpentine. I came from a time and place where no one talked about preventive medicine, and when you saw a doctor, you were getting ready to die."


On a more political note, she continued, "I believe it is because of George Bush, you are here. I have not had anything [yet] to thank him for, but I thank him for [stirring up activism in the youth.] We are dying from preventable diseases, but not anymore [after tonight!]"


Photo: Left to right, California Congressperson Maxine Waters (D-CA), Port Of Harlem Book reviewer Ida Jones, Ph.D., and Lorraine Cole, Ph.D., President and CEO Black Women's Health
Imperative. Photo by Richard E. Jenkins III.