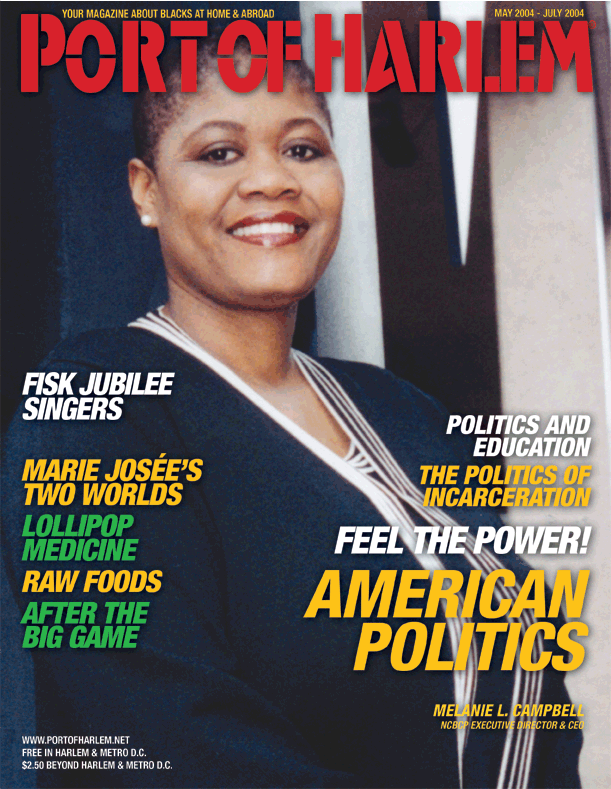 Port Of Harlem's newest quarterly print release focuses on American Politics. Along with its regular general interest features such as travel and recipes, they May - July issue features a cover story interview with Melanie Campbell, Executive Director and CEO of the National Coalition on Black Civic Participation. As head of the coalition of 130 organizations, Campbell talks about the 21st Century barriers that Black people in America face plus lessons learned from Florida 2000.

Also in the inclusive, diverse, Pan-African magazine, liberal English politician Charles Anglin explains why he urges Blacks in America to vote their often conservative leanings. T. Michael Colbert, our contributor that is incarcerated, looks at the politics of incarceration and Elizabeth Primas, EdD eyes the historical connection between politics and educational opportunities for African-Americans.

Niki-Jackson Blake interviews former St. Louis Cardinal Garry Templeton and Ghana native Paul T. Kwami talks about leading the historic Fisk Jubilee Singers. As the magazine gears up for its big trip to The Gambia, West Africa, the publication devotes a full-page to introducing readers to Gambian citizens from all walks of life. Ida Jones, Ph.D. reviews Songs of the Water Saint, the latest book by Dominican-born Nelly Rosario.

"Our health articles are often our most popular and in this issue Phamily Pharmacy owner Akunji Gideon explains how he makes medicine appear like candy so children will take it," added publisher Wayne Young. Dianne Jackson, MD writes about the benefits of having a massage.

In conjunction with the print release focusing on American politics, Port Of Harlem magazine will host a lively happy hour discussion with Alvin Williams, President and CEO of Black America's Political Action Committee (BAMPAC). Participants will meet new people and learn about issues in our community during the event at Ellington's on Eighth, 424 8th Street, SE - - near Eastern Market Metro. The Thursday, June 17 event takes place from 6p to 7:30p.

Port Of Harlem in available at no cost at more than 150 locations throughout Metro Washington, D.C. and Harlem, NY. For a list of locations where you can pick up the magazine or to reserve a seat for the happy hour event, visit www.PortOfHarlem.Net or call 202-583-3438.



To subscribe to the print issue and have us deliver it to the address of your choice, click here.
To find where you can retrieve a free copy, click here.