How to survive and succeed in business was the focus of the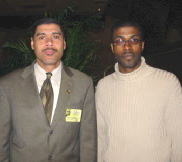 DuBois Business Summit in Prince Georges County, MD on November 8. More than 150 Washington area business persons participated in the educational and networking event including B. Doyle Mitchell, Jr., President and CEO of the fifth largest Black bank in America, Industrial Bank of Washington, and Brother Simba, cofounder of the country's largest Black-owned bookstore, Karibu Books.

Commenting how a business can increase it chances of successfully getting a bank loan, Mitchell advised, "You should come to the table with some [assets]." Simba, commenting on what Black businesses must do to succeed, added, "The key to Black business development is based on our ability to rely on us."

Joshua Smith, the business savvy and humorous founder,chairman, and CEO of The


Maxima Corporation; and chairman and a managing partner of The Coaching Group, LLC opened the daylong session emphasizing the importance of personal relationships in business. "I don't do business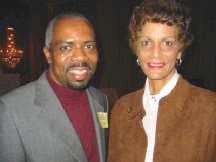 with brochures, but with people," he said. "People in business do business with people in other businesses," added his friend, Mike Little, President and CEO of B/W Solutions.

Many of the other entrepreneurs also talked about the building of their businesses and their business philosophies including Kathryn Freeland. She believes that society teaches women to be multi-taskers, which is a trait that many agree that a successful business person must have. She recalled having to maintain her business while losing a child and an executive; and battling breast cancer within a very short period. "I fell down, and managed to get back up," said the CEO of RGII Technologies.

Dorothy Bailey, founder of the Harlem Renaissance Remembrance Foundation, hosted the event and talked about the event's namesake, W.E.B. DuBois, and his belief that the talented 10% of the race would take on the responsibility of reaching back and pulling the others along. During lunch, Smith introduced keynote speaker former D.C. mayor and councilman-elect Marion Barry, Jr. as an example of one who reached back into his community by increasing the share of contracts that Black businesses got from the District government from 3% to 47% during his tenure as mayor.

When Barry reached the podium, he reminded the talented tenth, "Don't be ashamed to talk Black." On the flip side, said Berry, "You have to make sure that the [Black-owned] business [that you hire] can do what it said it can do."

Photographs: B. Doyle Mitchell, Jr. of Industrial Bank and Brother Simba of Karibu Books.
Effi Barry and Port Of Harlem publisher Wayne Young.