Jerdine Nolan Visits Sister Clara Muhammad School - DC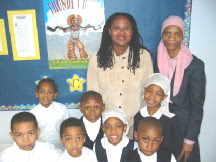 "What is a tall tale?" asked children's book writer Jerdine Nolan. "A fake story!" answered the students at the Sister Clara Muhammad School in Southeast Washington. Nolan visited the school recently to read her latest book, Thunder Rose, as part of the POH Gambian-American Pen-Pal program.

Classrooms at the three Washington schools and their partner school in The Gambia got copies of her book. During the year, POH facilitates the exchange of drawings and/or letters between the students. POH readers also provide educational support for 17 Gambian children for only $49 for four years of education.

Nolan's unique and non-stereotypical story centers around Rose. She lives in the U.S. West where the winds blow free. As a baby, she would lift cows over her head and drink them dry. With her steer, Tater, at her side and straw in her mouth, Rose seems to be more than human and able to handle everything that comes her way. Unlike Nolan's previous book, Big Jabe - where the family moved from the South to the North after Emancipation, Rose's family moved from the South to the West after Emancipation.

"What made you want to write that book?" questioned another student. "I always wanted to know if an African-American heroine cowgirl ever lived," said Nolan, who was wearing red cowperson boots.