Kani Xulam, Director of the American Kurdish Information Network, will join host Lillian Cooper Wiggins and Wayne A. Young on the half-hour news analysis program during the weeks of April 27 and May 4. Xulam was born in "northern Kurdistan," which he says is "presently controlled and misruled by Turkey." Kurds also live in Iran, Iraq, and Syria.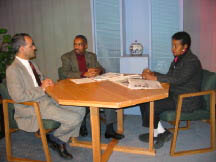 Xulam will share his views on how the Kurds play into the Iraqi War, their drive to have a separate Kurdish country, the relationship between the partitioning of Africa and the Middle East, and the similarities between Kurdish leaders such as Abdullah Ocalan and Leyla Zana, and Nelson Mandela.

The show airs in Washington, D.C. on Comcast 5 and StarPower 10, Sundays at 2 p.m. and repeated Wednesdays at 10 p.m. Don't miss it!