A leader of BlackSouth African Pride (BSAP), and White South African Robin Back,representing his family-owned South African winery, were in Washington last week to promote their individual interests. Though the South African natives do not know each other and had separate interviews with Port of Harlem,they equally expressed pride in their country's development.

South Africa is the only country in the world that constitutionally guarantees equal rights for gays.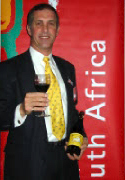 However, though the country is majority Black, South African Black gays feel a need to hold a separate Pride Day from their White counterparts. Calling South Africa an "Eurocentric" country, the Black leader, continued, "We march together, but in the evening when it comes to the after-party, Black people are not catered for." Interestingly, they don't call the Eurocentric gay celebration "White" Gay Pride, but simply South Africa Pride.

"We want to create spaces where Black people are comfortable. If White people want to come and enjoy themselves and celebrate with us, they are more than welcome," added the Black leader. He was in town to raise funds for BSAP and to promote the upcoming International Conference for Lesbians, Gays, Bisexuals, and Transgender people of African Descent.

He scuffs at the idea that being gay is not African and something that came with the White man. "When I was growing up, I didn't have contact with White people. I never met a gay person before, but I knew that I was attracted to other men," he continued.

However, the introduction of western ideas has affected how South African men relate to each other. Traditionally, African men would hold hands in public as a sign of friendship. However, if they carry this tradition into the westernized cities, many people assume the men are a romantic couple. "They would never, ever think that in the townships," says the Black leader..

Despite the difference between the races, the leader encourages other Blacks to participate in [White] Pride activities. He says, "If we want to be accepted by the larger community, we can't be seen as fighting in our on ranks."

When asked if he agreed with wine executive Back's view of South African inclusiveness and that Back is an African, too, the Black leader responded, "As long as he thinks and believes that everything that he does is for the land and its people, than he's an African."

Back is proud of his country's goal to be an inclusive society. "We need all our people and want them to stay. We want this to be an inclusive society, not an exclusive society." Back was in town for the Washington International Wine and Food Festival were less than a handful of Blacks attended. Tickets were $61 per person.

Though American Blacks make up a small percentage of wine drinkers, Back was there to convince Americans, including Blacks, to drink South African wines. Commenting of the size of the African-American market, he said, "We only need a few percentage of them to be drinking wine and that's still a lot of people drinking wine."

The company's highest sells are in the United Kingdom where there are only about a dozen chains stores, each controlling about 500 outlets. The United States market is different. In the States, Back has one importer and about 50 distributors to work with, plus each state has its own laws governing wine sales. "For us, it is like selling wine to 50 different countries," he says.

Back's family came to South Africa in 1904 from Lithuania, Europe and acquired Fairview farm in 1937. By the time his family purchased the land, Europeans had firmly settled the land they claimed belonged to no one. Back represents the 4th generation of farmers.

He explained how he would be baffled if South Africa started land reform programs similar to those taking place in neighboring Zimbabwe. However, citing the "intentional imbalance" caused by apartheid, he added, "We have to have mechanisms in place to redress the imbalance."

Fair View he says has begun its own act of reparations - - or repairing those that they have damaged. In 1997, his company purchased a neighboring farm for their 140 laborers - many who have lived in their "company town" at the edge of Fair View for generations. However, like some newly freed enslaved Americans after Emancipation, many of them did not want to leave Fair View.

By 2002, with eight families having moved to their own cooperative farm, to what they call Fair Valley, others are beginning to see what greater independence can bring. "Suddenly, there is a lot more enthusiasm for moving across to this farm," says Back. The farmers at Fair Valley market their own wine, Fair Valley Wine, which they sell in South Africa and the United Kingdom. Their slogan is "The hands that work the soil, feeds the soul."

Back sees these developments as progress. They are "proof that no matter people differences, we are going forward and living together in peace and harmony."


South Africa Story Photo: Robin Back