A sorbet produced by Dynamic Commodities Inc. of Port Elizabeth,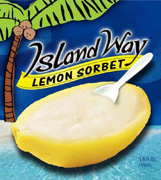 South Africa is now available in the United States. Serving as a testimony to the Corporate Council on Africa (CCA)'s South African International Business Linkages Program (SAIBL), 7-Eleven is introducing "Island Way Sorbet" into their stores nationwide this month.

The company is exporting the selection of frozen fruit shells filled with flavored sorbet to the U.S. under the African Growth and Opportunity Act (AGOA). The act offers designated beneficiary countries in sub-Saharan Africa duty-free and quota-free access to the U.S. market for qualifying products.

"Dynamic Commodities is an excellent example of how historically disadvantaged companies in South Africa have started taking advantage of AGOA," said Nischal Patel, CCA's SAIBL Program Manager. "One of SAIBL's major goals for the upcoming fiscal year is to expose companies from all over Southern Africa to the U.S. market. CCA's vast network within the U.S. places SAIBL in a strategic position to establish such linkages," he continued.

Adrian Vardy, CEO of Dynamic Commodities, ascribed their success in part to their U.S. distributor, Gulf Pacific Seafood/Table Bay International, a Florida-based company owned by South African expatriate Ernest Marais. "It is critical to have a distributor in America. Although a distributor does add an extra layer of cost, this can eliminate delays and facilitate far greater volumes and immediate communication with the markets - benefits which often justify the extra cost," Vardy said.