Peddle Power!
by Wayne A. Young
For many, cycling is just for childhood entertainment or adult exercise. For Ivan Dominguez and Rahsaan Bahati, cycling is also a sport. Both men, like Venus, Serena, and Tiger, are showing their power in a sport where the enthusiasm among Blacks is little, but growing.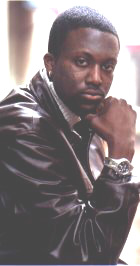 Dominguez and Bahati are members of America's number one cycling crew, the Saturn Cycling team. The organization's 24 members speak eight different languages and are from various parts of the world. Cuban-born Dominguez joined in 2001. American-born Bahati joined in 2002. They are the only members of African descent on the team.
Though Cuba is also in the Americas, Euro-centric reports often mistakenly hail Bahati as the nation's only African-American pro cyclist. "I'm Cuban. I'm Black," states Dominguez. "I can't say I'm White, because I am not," he continued. His mother is Black. His father is White. "In Cuba, they have everything. A lot of mixing," he added.
Cycling requires strong legs, upper body strength and good breathing techniques. Races can last from three days to three weeks. Physically, they are in top shape.
Dominguez, who at 25, is 5'9" and 162 pounds, has a work out routine that includes biking up to 130 miles every day for five day periods. During the off season, November and December, he goes to the gym. "I'm not doing mucho - too much - for my arms," he says in English and a little of his native Spanish, "cause I don't want my arms bigger because it is not good for cycling." Instead, he concentrates on his legs and stomach. Dominguez defected from Cuba in 1998. He currently calls Orlando, Florida home.
In his spare time, Dominguez likes action films and thrillers. Denzel Washington is his favorite actor. When asked about his favorite actress, he laughed, "It's too many, man. Well, I like Jennifer Lopez." He also loves the Discovery Channel. "I particularly like the programs because they speak slowly and I can get a lot of information about everything," he says.
Bahati studies computer animation and telecommunications at Indiana University in Bloomington, Indiana. Between his studies, the Southern California native prefers keeping his six feet, 156 pound body in shape by taking "short" four to five hour rides. However, during the off-season when he is in Indiana, the 20-year-old sophomore student finds the weather too uninviting. "It was just so cold," he told Port Of Harlem during his summer break in California. So, he remains active by lifting weights and running indoors.
Currently in his spare time, Bahati likes, "sleeping, eating, and staying at home," he says. "I have a girlfriend," he continued, "so, that's a lot of time right there." The former drum major and saxophone player also likes learning about Frederick Douglass. Douglass' leadership, intelligence, and the power he wielded intrigue Bahati. "In his time, he was one of the few Black men that non-Blacks actually listened to," he says.
His hero; however, is Marshall "Major" Taylor, the first African-American World Champion cyclist. Long before Jackie Robinson broke the color line in Major League Baseball in 1947, Althea Gibson became the first Black to win Wimbledon in 1957, or Lee Elder played the Masters Tournament in 1975, Taylor won the Cycling World Championship in 1899.
Taylor was also the first African-American to be a member of an integrated professional team, obtain commercial sponsorship, and set world-records. Ironically, Bahati occasionally trains at the Marshall "Major" Taylor Velodrome - a track designed for cycling - in nearby Indianapolis. Added Bahati, "We (Ivan and I) are helping to fulfill a destiny that Major Taylor started."
The Sport
Every sport has its Tiger Woods and Michael Jordan. For cycling, it's testicular cancer-survivor and four-time Tour de France winner, Lance Armstrong. The New York Times reported that most of the 100,000 screaming fans that lined lower Manhattan streets on August 4 for the New York Cycling Championship rooted for Armstrong. However, the winner was Ivan Dominquez. "Without a doubt, that was the biggest win in Ivan's life," says Saturn Cycling Classic organizer Len Pettyjohn.
Professional cycling is an individual sport blended with elements found in team sports. Usually a team has five to ten members. While most professional races only recognize an individual as the winner, the major races, such as the Tour de France, also award team placing. In team racing, race officials add the finishing times of the top three cyclers on each team to come up with the team's finishing time. Amateur events also include team competitions, however, most are individual competitions.
For professional and amateurs, there are two types of races, Road and Criterium. Road races, like the seven-hour Saturn Cycling Classic in Colorado, start at one point and end at another. The 23-day Tour de France, the most famous cycling race in the world, consists of different races that take place each day. Each race is called a stage. The winner is the cyclist who has the lowest cumulative time for all 23 days. The Tour also includes special awards like "King of the Mountain." The "King" award is for the rider with the best cumulative placing during the mountain stages. Criterium races have the same start and ending points with the cyclers biking multiple laps - similar to track racing. Unlike in many other sports, teams take on the name of their sponsor. Dominquez. and Rahsaan Bahati are on the Saturn Cycling Team.